Switchgear offers transient voltage surge suppression.
Press Release Summary: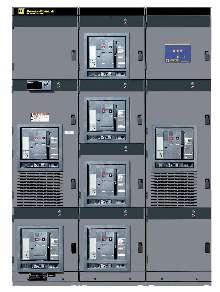 POWER-ZONE® 4 Switchgear offers SURGELOGIC® TVSS Surge Protection Devices as integral components or external add-ons, providing peak amperage protection up to 480 kA. Integral TVSS device, with modular design, does not require extra lengths of conductor. Externally mountable TVSS devices protect single pieces of equipment and can be used alone or in conjunction with internal devices. Switchgear offers segregated access to wiring and smart functionality.
---
Original Press Release:

Surgelogic® TVSS Protection Now Offered for Square D Power-Zone® 4 Switchgear


PALATINE, Ill. - Feb. 6, 2003 - SQUARE D POWER-ZONE® 4 Switchgear now features SURGELOGIC® TVSS Surge Protection Devices as integral components or as external add-ons. This new transient voltage surge suppression capability in the switchgear helps ensure cost-effective power quality for low- and medium-voltage distribution, machine control, motor control, material handling and HVAC. SURGELOGIC TVSS is exceptionally valuable for critical power applications in data centers and hospitals, and in automotive, pharmaceutical, pulp and paper, telecommunications and water treatment plants.

New SURGELOGIC TVSS products meet an extended range of peak amperage protection up to 480 kA and are available in multiple formats suitable for a broad range of applications - from new commissioning to retrofit.

The best way to ensure cost-effective power quality is to use surge protective devices that are built directly into end-use equipment. Integral TVSS devices don't require the extra several feet of conductor used by externally mounted devices. All integral TVSS systems feature a modular design for a flexible, cost effective way to achieve superior protection. Specifically designed for integration with SQUARE D equipment, SURGELOGIC integral devices are built-in at the Square D/Schneider Electric factory. They are fully tested and certified as specified by UL 1449 Second Edition and UL 1283.

Square D/Schneider Electric also offers a full range of externally mountable TVSS devices used to protect single pieces of equipment or for quick retrofit applications. External TVSS devices can be used alone or in conjunction with internal devices to optimize overall protection.

SQUARE D POWER-ZONE 4 Switchgear features a small, flexible footprint, extended maintenance intervals, segregated access to all wiring, and easily added "smart" functionality, such as communications interfaces and power monitoring and control capability.

Utility industry experts estimate that problems resulting from transient voltage surges cost U.S. companies $26 billion annually. That figure not only includes the high price of direct damage to electrical distribution systems, electronic equipment, software and tools, but also the cost of lost productivity. Sixty-three percent of all transient voltage surges derive from sources inside a facility, while only 37 percent occur from outside sources such as lightning and fluctuations in utility power.

For more information about the complete line of SURGELOGIC surge protection devices from Square D/Schneider Electric, call 1-800-392-8781, visit www.SquareD.com or send an e-mail message to help@SquareDinfo.com.

Headquartered in Palatine, Ill., the North American Division of Schneider Electric had sales of approximately $2.7 billion in 2001. The North American Division is one of four geographic divisions of Schneider Electric, headquartered in Paris, France, and markets the brands of Schneider Electric in the United States, Canada and Mexico. In the United States, it is best known by its flagship SQUARE D brand, a market-leading brand of electrical distribution, industrial control and automation products, systems and services. Schneider Electric is a global electrical industry leader with 2001 sales of approximately $8.7 billion.


More from Controls & Controllers