Switches suit video display design.
Press Release Summary: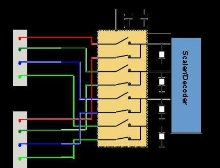 Switches offer 1.45 mm² packages for hand-held and portable electronics. Model FSAV330 quad SPDT switch offers bandwidth of >300 MHz, allowing analog video signal to pass with minimum distortion. Ultra low cross talk and off isolation of -60 db at 10 MHz minimizes ghost image between active channels. Models FSAV331, dual 4:1 video multiplexer/demultiplexer, and FSAV332 quad SPST also available.
---
Original Press Release:

Fairchild Offers High Performance Video Switches for High-End Video Display Design


Fairchild's analog switches feature a broad array of switch technology including video, audio, LAN and USB switches widely used in mobile phones, PDAs, notebooks and high end video displays such as LCD, plasma and projector displays. Fairchild's analog switches offer high performance and reliable, space saving packages such as MicroPak(TM) (1.45mm2) for handheld and portable electronics.

FSAV330: Quad Single Pole Double Throw Analog Video Switch

Wide bandwidth (>300MHz) allows the analog video signal to pass with minimal distortion

Ultra low crosstalk and off isolation (-60db at 10MHz) performance minimizes the ghost image between active channels

Low differential gain and differential phase

Superior ESD performance for reliable operation (4KV HBM)

A Design Example Using Fairchild's Video Switch FSAV330 for SCART RGB Signals Routing in LCD TV Design

FSAV331 (Dual 4:1 Video Multiplexer/Demultiplexer) and FSAV332 (Quad Single Pole Single Throw) are also available.

More from Waste Management & Waste Handling Equipment