Switches offer power, logic-level, and dual ratings.
Press Release Summary: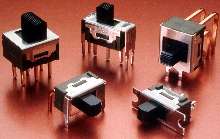 Single- and double-pole MS miniature, slide switches are available with 2- and 3-position circuits, which range from standard on-on and on-off-on to on-on-on position. Panel- and PC-mounted switches feature non-shorting contact mechanism that reduces sparking and increases
operating life in ac circuits. Electrical capacity is rated at 6 A @ 125 Vac(3 A @ 250 Vac), for silver contacts, and 0.4 VA @ 28 Vac/dc for gold contacts.
---
Original Press Release:

NKK Switches' New Slide Switch Generates Widespread Interest


MS Series Offers Power, Logic-Level and Dual Ratings

SCOTTSDALE, Ariz. (Sept. 23, 2002) - Created to accommodate design flexibility, NKK Switches' MS miniature slide switch series serves engineers faced with complex designs.

The versatile MS slide switches provide engineers with a broad range of options from which to specify a solution. The MS series has garnered widespread interest from the Communications, Transportation, Medical, Industrial/Commercial and Computer/Peripheral industries.

MS miniature slide switches are available in single and double pole variations, and with circuits including two- and three-position models, which range from standard ON-ON and ON-OFF-ON to the three ON position. Actuation of the siide switch is crisp and clearly indicates the circuit status.

Engineers can specify panel mount or PC mount models of the MS series. Simplifying wiring and soldering, the panel mount versions feature a longer center solder lug terminal. The PC mount devices are available in many styles including straight PC,
upright with bracket, vertical or right angle PC mount.

The MS series' epoxy-sealed terminals prevent the entry of flux, solvents and other contaminants, while the base of the slide switch features molded-in standoffs to further prevent contamination during wave soldering.

The distinctive MS slide switches can be specified with power, logic-level or dual ratings. The dual-rated option suits applications where identical switches are used in both a logic and power level circuit. Electrical capacity is rated at either 6A @ 125V AC (3A @ 250V AC) for silver contacts or 0.4VA maximum @ 28V AC/DC maximum for gold contacts. All MS models feature a non-shorting (break before make) contact mechanism, which was further engineered to reduce sparking and increase the
operating life in AC circuits.

The MS slide switch's stainless steel frame resists corrosion, while the internal construction of the case prevents biased movement with an anti-jamming design. Consisting of an actuator block interlocked with the actuator and an interior guard, the anti-jamming design protects the contacts from damage due to excessive downward force on the actuator. All models are UL recognized, CSA certified and use material that has UL flammability rating of 94V-0.

A leading designer and producer of electromechanical switches, NKK Switches offers one of the industry's most extensive selections of illuminated, process sealed, miniature, specialty and surface mount switches. The company manufactures more than three million toggle, rocker, pushbutton, slide, rotary, DIP rotary, keypad and keylock switches. NKK Switches maintains a complete network of qualified representatives and
distributors throughout the United States, Canada, Central and South America, Europe and Asia.

For more information, contact NKK Switches, 7850 E. Gelding Dr., Scottsdale, AZ 85260. Phone 480/991-0942. Fax 480/998-1435. Or visit the NKK Switches Web site at www.nkkswitches.com.