Switches come with single-pole and 3-way options.
Press Release Summary: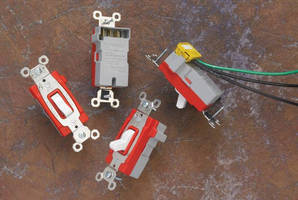 P&S PlugTail(TM) switches include spec and hospital grade receptacles, G-F-C-Is, tamper-resistant receptacles, and pre-stripped connector leads. Available in toggle and Decorator platforms, switch connector has 3-wire solutions for single-pole, and 4-wire solutions for 3-way applications. Units are compliant with Federal Specification requirements.
---
Original Press Release:

P&S PlugTail(TM) Switches Bring Productivity and Profitability to a Higher Level



SYRACUSE, N.Y. (April 16, 2009) - Pass & Seymour/Legrand (P&S), a leading provider of electrical wiring devices and home systems, announces a major addition to its PlugTail(TM) wiring devices, which literally takes safety and convenience from the receptacle up to the switch. P&S PlugTail(TM) Switches, with single-pole and 3-way options, allow contractors to move more complex tasks to the front of the project and optimize total installed cost at the opening.

P&S PlugTail Switches help commercial contractors be more competitive on wiring device projects while offering facilities a safer, more convenient solution. Simply connect the pre-stripped P&S PlugTail Switch connector leads. Available in toggle and Decorator platforms, the Switch connector has three-wire solutions for single-pole, and four-wire solutions for 3-way applications. It's easier than pigtailing, doesn't require a wire caddy, and the polybag keeps the connector free of dirt, dust and joint compound until trim-out.

At device installation just click in the connector, and tighten the mounting screws. It takes less than a minute - three times faster than a conventional device installation - and with consistent connections every time. This saves time at the end of the project, when every minute counts.

"With PlugTail Switches, P&S has the most complete wiring device family, including spec and hospital grade receptacles, G-F-C-Is and tamper-resistant receptacles," said Scott Bausch, Marketing Manager - Commercial and Industrial Products. "Since 2004, millions of P&S PlugTail devices have allowed contractors to provide superior installations for all types of facilities."

The wiring device family offers the fastest, most consistent, most reliable installation solutions for any commercial job, including hospitals, colleges and universities, offices, retail and entertainment venues, and hospitality and multi-dwelling facilities. The Switches add 120 new SKUs, all meeting Federal Specification requirements.

P&S PlugTail(TM) is a patent approved product by Pass & Seymour Legrand.

For more information about P&S PlugTail(TM) Switches, or any P&S PlugTail(TM) products, contact your P&S representative or visit www.passandseymour.com/goplugtail.

Pass & Seymour/Legrand is a leading provider of electrical wiring devices, accessories and home systems in North America. For more information, call
1-800-776-4035 or visit www.passandseymour.com.

About Legrand

Legrand is the global specialist in products and systems for electrical installations and information networks where people live and work. Its comprehensive offering of solutions for use in commercial, industrial and residential markets makes it a benchmark for suppliers worldwide.

Innovation for a steady flow of new products with high added value is a prime vector for growth. Backed by sound business and financial structures, Legrand is actively expanding its presence in fast-growing geographical zones and market segments that include lighting controls, energy savings and home automation, through a sustained stream of targeted, self-financed acquisitions and other initiatives. In 2007 Legrand employed 35,000 people around the globe and reported sales of 4.1billion, including 25% in emerging markets. The company is listed on Euronext Paris and is a component stock of indexes including the SBF120, FTSE4Good and MSCI World (ISIN code FR0010307819). www.legrandelectric.com

Pass & Seymour/Legrand
P.O. Box 4822
Syracuse, NY 13221

More from Optics & Photonics