Switch Modules offer PXI capability in harsh environments.
Press Release Summary: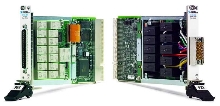 Rated 12 A, PXI-2585 and PXI-2586 are single-slot, 3U PXI modules with 10 channels each. Former is configured as 10x1 multiplexer, and latter has 10 independent SPST relays. Both products, rated for voltages up to 300 V ac/dc, can switch up to 3,000 VA in ac applications and feature power levels up to 300 W in dc applications. General-purpose PXI-2564 is single-slot, 5 A, 3U PXI module with 16 independent SPST relays and isolation voltage up to 150 V.
---
Original Press Release:

NI High-Power Switch Modules Increase PXI Capability for Military and Automotive Applications


New Modules Add to Growing Family of More Than 80 Switch Configurations

NEWS RELEASE - March 1, 2005 - National Instruments expanded its current offering of more than 80 switch configurations with the introduction of the NI PXI-258x series of 12 A switch modules and the NI PXI-2564 5 A switch modules. These modules are ideal for switching high-power signals in military, aerospace and automotive applications.

National Instruments PXI-2585 and PXI-2586 high-power switches are 12 A, single-slot, 3U PXI modules with 10 channels each. The NI PXI-2585 switch is configured as a 10x1 multiplexer and the NI PXI-2586 switch has 10 independent SPST (Form A) relays. Both switches have low-contact resistance and high-isolation voltage. The PXI-2585 and PXI-2586, rated for high currents (up to 12 A) and high voltages (up to 300 VDC/300 VAC), are ideal for switching power signals and loads in control applications and battery, power supply and automotive testing. In AC applications, the modules can switch up to 3,000 VA and in DC applications, the modules feature power levels up to 300 W. With the PXI-2585 and PXI-2586 modules, engineers can switch higher power signals in PXI than before with NI hardware.

The National Instruments PXI-2564 switch is a 5 A, general-purpose switch in a single-slot, 3U PXI module. It has 16 independent SPST (Form A) relays with low-contact resistance of less than 100 milliohms and high-isolation voltage up to 150 V. It includes over-temperature protection to ensure that the relays are never operational with power amounts in excess of their ratings. If they approach the rated value, the control circuitry opens the relay contacts. The PXI-2564 switch is ideal for switching medium-to-high-power signals and loads in military, automotive or automated test applications. Engineers can double the density of their systems at a similar power level and lower price per channel with this new module compared to previous offerings.

All of the new modules are rated at Measurement Category II (CAT II) for long lifetimes even in harsh electrical environments, delivering better protection and making the modules less susceptible to damage from voltage transients. The relay-count tracking on the modules reduces system downtime by signaling to the test engineer when it is time to replace the relay. With common signal connection options, multiple vendors can provide the type of connectivity the system requires at an affordable price for reduced setup time and cost.

These switches come with high-performance driver software that gives engineers the maximum flexibility for system programming with the new module. Engineers can manage and maintain the system with NI Switch Executive and NI TestStand from validation to manufacturing test. The new module works with the entire suite of NI modular instruments, and engineers can use NI LabVIEW, LabWindows/CVI and other common development environments to control the module for automated test applications.

About NI Modular Instruments

NI offers essential technologies for test, which combine high-performance hardware, flexible software and innovative timing and synchronization technology for test and design applications. NI modular instruments offer accurate, high-throughput measurements from DC to 2.7 GHz. The product family includes:

o High-resolution digitizers (up to 14 bits, up to 200 MS/s)

o Signal generators (up to 16 bits, 200 MS/s)

o Digital waveform generator/analyzers (up to 400 Mb/s)

o Digital multimeters (up to 7½ digits)

o RF vector signal generators and analyzers (up to 2.7 GHz)

o Dynamic signal analyzers (up to 24 bits, 204.8 kS/s)

o Switching (multiplexers, matrices and general-purpose relays)

About PXI

PCI eXtensions for Instrumentation (PXI) is an open specification governed by the PXI Systems Alliance (www.pxisa.org) that defines a rugged, CompactPCI-based platform optimized for test, measurement and control. PXI products are compatible with the CompactPCI industrial computer standard that is supported by more than 60 member companies and more than 1,000 products. PXI offers additional features such as environmental specifications, standardized software and built-in timing and synchronization.

About National Instruments

National Instruments (www.ni.com) is a technology pioneer and leader in virtual instrumentation - a revolutionary concept that has changed the way engineers and scientists in industry, government and academia approach measurement and automation. Leveraging the PC and its related technologies, virtual instrumentation increases productivity and lowers costs through easy-to-integrate software, such as the NI LabVIEW graphical development environment, and modular hardware, such as PXI modules for data acquisition, instrument control and machine vision. Headquartered in Austin, Texas, NI has more than 3,400 employees and direct operations in approximately 40 countries. In 2004, the company sold products to more than 25,000 companies in 90 countries. For past six years, FORTUNE magazine named NI one of the 100 best companies to work for in America.

Pricing and Contact Information

NI PXI-2585 priced from $1,095

NI PXI-2586 priced from $995

NI PXI-2564 priced from $895

Web: http://www.ni.com/switches

Deep URLs:

NI PXI-2585: http://sine.ni.com/apps/we/nioc.vp?cid=14855&lang=US

NI PXI-2586: http://sine.ni.com/apps/we/nioc.vp?cid=14646&lang=US

NI PXI-2564: http://sine.ni.com/apps/we/nioc.vp?cid=14645&lang=US

More from Material Processing