Swiss-Type Lathe features up to 9 total axes.
Press Release Summary: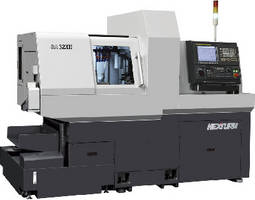 Available with or without rotary synchronous guide bushing, Nexturn SA32XII features up to 33 tools with optional B-axis, including 19 live tools. Machining capacity is 32 mm on main spindle and 32 mm on sub spindle with 8 in. max turning length in one chucking. Rated at 10 hp, 8,000 rpm, main spindle has built-in motor for optimized acceleration/deceleration. Full C axis on both main and sub spindles with .001° position and pneumatic disc brake clamping provide rigidity for milling operations.
---
Original Press Release:

9-axis, 32mm Nexturn Swiss-Type Lathe with B-axis in Action at IMTS 2014



Absolute Machine Tools - Booth S-8536



Lorain, OH – The Nexturn SA32XII Swiss lathe is a new 32mm machine that is available with or without a rotary synchronous guide bushing, and can be seen in action at IMTS 2014 in Absolute Machine Tool's booth S-8536.  It features up to 9 total axes (Z1, X1, Y1, Z2, X2, Y2, C1, C2, and optional B) and up to 33 total tools with the B axis (29 without), including 19 live tools.  Machining capacity is 32mm on the main spindle, 32mm on the sub spindle, and 210mm (8") maximum turning length in one chucking (60mm or 2.36" without guide bushing).



The machine is built for rigidity, accuracy, reliability, and ease of use.  The highly rigid one-piece cast iron machine bed is designed using FEM software.  Powerful motors for both turning and milling deliver outstanding machining capability.  The use of ultra-precision pre-tensioned ballscrews and LM guides produce high accuracy.  High speed positioning of 1260"/min reduces cycle times.  A sliding operator door, as opposed to a lift up style door, provides easy access to the machining area and is drip free.



Spindles are the heart of the machine.  The main spindle is a 10HP, 8000 RPM built-in motor spindle.  The built-in motor provides outstanding acceleration / deceleration.  The full C axis on both main and sub spindles with .001 degree position and pneumatic disc brake clamping provide high rigidity for milling operation.  The synchronous sub spindle allows simultaneous front and back working to be performed.



Powerful live tools provide excellent milling ability.  With 1.3HP and 6,000 RPM, a wide range of milling, drilling, and tapping can be performed.  ER-16 collets (ER-11 for back tools on the optional B axis) for the live tools provide excellent rigidity.  Rigid tapping is standard.  The optional B axis, used primarily for milling, drilling and tapping angled holes, provides 0 – 135 degrees of swiveling rotation with 3 front side and 3 back side live tools.  The front side tools can be used for both front and face work, doubling the useful tools to 6 possible.



The synchronous rotary guide bushing features a dual bearing structure with high accuracy.  It has strong and accurate bearing support on both ends.  The guide bushing is spline shaft driven.  The guide bushing is necessary for precision machining of long parts.  The machine can be ordered without the guide for short parts, reduced remnant length, and the ability to run cold drawn material. 



Nexturn is the industry leader in Swiss type CNC lathes.  Nexturn has many industry firsts, including the first to produce a 38mm CNC Swiss machine.  The use of top quality components combined with cutting edge technology produces a state-of-the-art machine with industry leading performance.  Nexturn machines use only the best components:



Nexturn uses the highest quality components to produce the best product possible such as:

Fanuc controls, motors, and drives (Japan); NSK ballscrews and THK linear motion guideways (Japan); NSK and FAG bearings (Japan and Germany); KHK gears (Japan); Mayr couplings (Germany); CKD pneumatic valves (Japan); SMC pneumatic cylinders (Japan); and Daikin hydraulic systems (Japan).



Nexturn Co., Ltd., is located in South Korea and has been providing quality machine tools to Asia, Europe and the Americas for more than 13 years.  Nexturn occupies a modern facility with a capacity of building 50 machines per month.  Nexturn is listed on the KOSDAQ (Korean stock market) since 2006.  Absolute Machine Tools has offices in Lorain and Mason, Ohio, Livonia, Michigan, and the newest in Elgin, Illinois, plus a network of experienced machine tool distributors in the United States and Canada.



For more information, visit IMTS 2014 booth S-8536 or contact Absolute Machine Tools at www.absolutemachine.com.