SUV Tires combine smoothness of ride and durability.
Press Release Summary: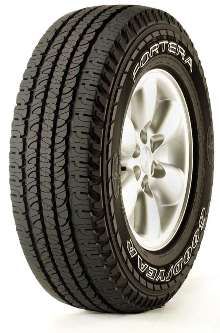 Featuring SilentArmor Technology(TM), Fortera® tires use absorbent layer between tread and underlying belts to offer smooth, quiet, and comfortable ride. Protection is provided from Armor Zone, which employs KEVLAR® layer, Durawall(TM) rubber compound to resist punctures and cuts, and Rim Guard to protect against accidental curb damage. Available in 25 sizes to fit 15-20 in. rim diameters, product fits SUVs from Jeep, Ford, Chevrolet, GMC, and Lincoln.
---
Original Press Release:

New Goodyear Tire Offers SUV Solutions for Choosy Drivers


DALLAS, Jan. 27, 2005 - "Choosy" consumers have a new offering - the Goodyear Fortera® featuring SilentArmor Technology(TM), which fits their needs for a tire on their no-compromise vehicles.

Research shows that SUV owners select their vehicles for a reason - they want the quiet comfort of a luxury passenger car, but also the utility of a minivan. The Goodyear Fortera featuring SilentArmor Technology was created with the demands of an SUV driver in mind, allowing them to select a tire that is strong enough to take on the everyday unexpected, while not compromising the quiet and comfort of a passenger car.

"The Fortera featuring SilentArmor Technology is a perfect blend of utility, strength and style," said Todd Hershberger, Goodyear marketing manager for light-truck tires. "SUV owners choose an SUV over a passenger car because the SUV gives them an extra edge in versatility. This new tire mirrors that kind of versatility. It matches the demanding needs of the SUV driver."

To achieve its no-compromise performance, the Fortera featuring SilentArmor Technology offers a smooth, quiet and comfortable ride, but also employs an Armor Zone. Three key features make up the Armor Zone:

o A layer made with KEVLAR®, a fiber which is, pound for pound, five times stronger than steel.
o Goodyear's exclusive Durawall(TM) rubber compound, which reinforces the sidewall to help resist punctures and cuts.
o Rim Guard, a design that further protects expensive wheels from accidental curb damage.

In addition, a super absorbent layer between the tire's tread and underlying belts provides, on average, 20 percent more cushion than average tires designed for SUVs and light trucks (based on comparisons of standard SUV/LT tires in Smithers Scientific Inc. TDS Reports of 1999-2004). This feature helps the new tire deliver a ride that feels more like a passenger car.

The Fortera featuring SilentArmor Technology also carries a consumer-friendly after-sale package to extend the feeling of total customer confidence and added peace of mind.

The "Fortera Premium Utility Package" offers:

o 70,000-mile treadlife limited warranty
o 30-day no obligation trial period
o Roadside Assistance Program
o Nationwide warranty service
o Online product registration
o Tire rotation reminder service

"The 70,000-mile treadlife limited warranty backs up the Goodyear claim of long-lasting tires, and the proven tread pattern provides excellent performance in wet conditions," said David Griffin, Goodyear's lead project engineer. "Additionally, our engineering team made several adjustments in the inner tread design ... the tread pattern that becomes visible after the tire is worn. Within the inner tread area, we increased the tread stiffness to improve wear and reduce noise."

The SilentArmor Technology icon on the tire's sidewall calls out the benefit of the breakthrough technology specifically added to this tire.

Fitting the most popular luxury and mid-value SUVs, the new Fortera featuring SilentArmor Technology is initially available in March in 25 sizes, ranging from 15- to 20-inch rim diameters. This vehicle segment consists of more than 10 million vehicles, with familiar examples such as Jeep Grand Cherokee, Ford Explorer, Chevrolet Tahoe, GMC Envoy and Lincoln Navigator.

For more information about the new Fortera featuring SilentArmor Technology, visit www.goodyearfortera.com. For other details about Goodyear, or to find the nearest Goodyear retailer, go to www.goodyeartires.com.

More from Test & Measurement