Suspended Displays feature 4-sided design.
Press Release Summary: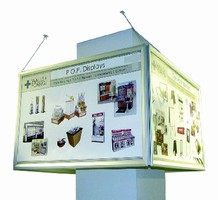 With 2 screws at each corner, 4-WayFrames can be assembled without special tools or installation crew. Frames are front-loading and do not need to be disassembled to change graphics. Standard backer is 1/8 in. thick low-pressure laminated hardboard surfaced white on front side for interior use. Available in choice of standard 3-mil clear satin anodized or black anodized finish, frames come in 9 sizes including 8½ x 11, 11 x 14, 18 x 24, 36 x 48 in. and more.
---
Original Press Release:

Economical 4-Sided Suspended Displays Can Be Created Quickly and Easily with 4-Way Frames from Walls + Forms



Walls + Forms Inc. now offers eye-catching 4-sided suspended displays that are easy on the budget. They assemble in minutes, saving headaches and money on installation.

With just two simple screws at each corner, the 4-WayFrame can be assembled quickly and easily. No special tools or installation crew are necessary. Frames are front-loading for easy graphic changing. 4-WayFrame never needs to be disassembled to change graphics. Users simply snap open the Walls + Forms "user-friendly" SekureFrame(TM) front-loading graphic frame system to change graphics in and out instantly. The display ships broken down for easy shipping. Optional backer panels and "anti-reflective" protective lenses are also available.

4-WayFrame is available in a choice of a standard 3-mil clear satin anodized or black anodized finish. The standard backer is a 1/8" thick low-pressure laminated hardboard surfaced white on front side for interior use. Fluted plastic (Coroplast) and white/two sided polystyrene backer panels are also available for interior and exterior use.

All frame dimensions are "graphic size". Nine popular frame sizes are available including 8 ½" X 11", 11" X 14", 18" X 24", 36" X 48", and more. For frames outside dimensions, 2" should be added to height and 2" to width. Height and width must be specified when ordering to mount hanging tabs in the proper location for portrait or landscape applications. Any size can be custom made up to a 46" x 94" poster size. For the do-it-yourselfer, all components are available in stock sizes and colors/finishes.

For further information, visit http://wallsforms.com/signage/4-Way_frames.htm
or contact sales department, Walls + Forms Inc., P.O. Box 741112, Dallas, TX 75374-1112 USA. Phone: 972-745-0800. Fax: 972-304-8402. E-Mail: info@wallsforms.com
Url: www.wallsforms.com & displaysource.com