Surveillance Monitoring System is event driven.
Press Release Summary: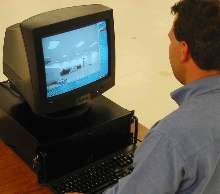 CAM Workstation SS captures digital images for display, recording, archiving, and retrieval from CCTV system. Support software enables event/alarm logging and event detection based on sensor interface. With 2400:1 video compression technology, system enables high volume storage and transmission. Design allows user to view designated visual information; scenes are referenced based on time, date, and camera location.
---
Original Press Release:

New Systems Take Video Image to the Next Level for Security and Surveillance


(Hartland, WI) For monitoring activities and property security, video is an ideal means of capturing events for subsequent review. Video's limitations as a sequential record become obvious when considering the need for future reference and analysis of this visual information. Search time can prevent the usefulness of footage meant to uncover patterns or link together episodes.

A new concept in video compression, comprehension and retrieval from Vision Controls Corp. significantly enhances video as a tool for record keeping and reference - the CAM Workstation SS. This technology promises to be one of the leading digital video analysis products available to the industry, offering concepts that provide users with quality images, rapidly referenced, at a cost that puts this technology within reach.

The CAM Workstation SS captures digital images for display, recording, archiving and retrieval from a CCTV system. Support software enables event/alarm logging and event detection based on sensor interface. The system's 2400:1 video compression technology enables high volume storage and transmission.

The Vision Controls motion detection and non-linear video compression algorithms are unsurpassed in sensitivity and quality. When an alarm event is triggered, built in TCP/IP networking can send the digital video stream to any or many workstations predefined to respond to the alarm. If specified, the event monitoring technology will find the security officer's pager or mobile telephone to notify that an event has occurred.

The event driven nature of the CAM Workstation SS product design allows the user to view only designated visual information with the help of event/alarm logging software. Scenes are easily referenced based on time, date and camera location.

Vision Controls Inc. provides intelligent digital video products, enabling the transformation of Audio/Visual Technology into Information Technology world-wide

Please send inquiries to:
Keith R. Schmitz
The Schmitz Company
2020 E. Kenmore Pl.
Shorewood, WI
(p) 877.851.3454
(f) 414.963.0369
schmitz1@ameritech.net
www.visioncontrols.net