Surmodics Announces FDA Clearance of a New .018" Low-Profile PTA Balloon Dilation Catheter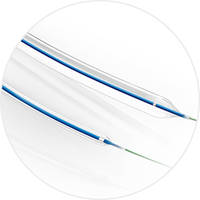 Company received FDA 510(k) clearance
Continued progress in R&D whole-product solutions pipeline
EDEN PRAIRIE, Minn.--(BUSINESS WIRE)-- Surmodics, Inc. (NASDAQ: SRDX), a leading provider of medical device and in vitro diagnostic technologies to the healthcare industry, announced it received U.S. Food and Drug Administration (FDA) 510(k) clearance for its .018" Low-Profile percutaneous transluminal angioplasty (PTA) balloon dilation catheter, designed and indicated for a broad range of peripheral vascular applications. The product is the result of the company's ongoing investment in a pipeline of highly differentiated whole-product solutions. Surmodics expects to make the product available for distribution in the coming months.
This new low-profile product combines our most advanced balloon technologies with Surmodics' proprietary, low-friction, low-particulate Serene® hydrophilic coating for superb tracking, and unmatched lesion crossing performance, while delivering high pressures and a broad offering ranging from 2mm to 10mm diameter.
"We are delighted to announce this latest of three recent FDA clearances, adding further depth to our proprietary product offerings. With the .018" Low-Profile PTA balloon catheter, we continue building upon Surmodics' portfolio of differentiated products that are designed to advance the treatment of vascular disease," said Gary Maharaj, President and CEO of Surmodics. "This regulatory milestone adds to the recent clearances of the Telemark™ .014" Support Microcatheter and the .014" BTK Balloon Dilatation Catheter."
Surmodics' whole-product solutions strategy leverages its comprehensive, vertically integrated design, development and high volume commercial production capabilities at its state-of-the-art facility in Ballinasloe, County Galway, Ireland. At this facility we control every step of the manufacturing process to produce the highest quality medical devices designed to address unmet clinical needs.
About Peripheral Artery Disease
Worldwide, over 200 million people have peripheral artery disease (PAD), a serious and underdiagnosed circulatory condition caused by build-up of arterial plaque, most commonly in the legs. Twelve to 20 percent of Americans over 60 years old have PAD. PAD increases risk of coronary artery disease, heart attack and stroke, and can impair the ability to walk. If left untreated, PAD can lead to gangrene and limb amputation.
About Surmodics, Inc.
Surmodics is the global leader in surface modification technologies for intravascular medical devices and a leading provider of chemical components for in vitro diagnostic (IVD) immunoassay tests and microarrays. Surmodics is pursuing highly differentiated whole-product solutions that are designed to address unmet clinical needs for its medical device customers and engineered to the most demanding requirements. This key growth strategy leverages the combination of the Company's expertise in proprietary surface technologies, along with enhanced device design, development and manufacturing capabilities. The Company mission remains to improve the detection and treatment of disease. Surmodics is headquartered in Eden Prairie, Minnesota. For more information, visit www.surmodics.com. The content of Surmodics' website is not part of this press release or part of any filings that the company makes with the SEC.
Contacts
Surmodics, Inc.
Andy LaFrence, 952-500-7000
ir@surmodics.com
More from Agricultural & Farming Products