SURGICEL® Powder Absorbable Hemostat is used in surgeries.
Press Release Summary: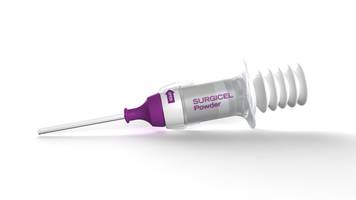 SURGICEL® Powder Absorbable Hemostat is used for broad-surface oozing and stops bleeding fast. Unit is suitable for gynecologic, oncologic, cardiovascular and general procedure applications. Product offers bactericidal activity in vitro against MRSA, MRSE, VRE, PRSP, E Coli pathogens.
---
Original Press Release:
New Absorbable Adjunctive Hemostat From Ethicon Helps Surgeons Control Disruptive Bleeding More Efficiently
SURGICEL® Powder is the next innovation in bleeding management designed to help improve operating efficiency
Ethicon, part of the Johnson & Johnson Medical Devices Companies, announced today the U.S. launch of SURGICEL® POWDER ABSORBABLE HEMOSTAT, a powdered adjunctive hemostat that is designed to help surgeons control disruptive bleeding more efficiently. Disruptive bleeding occurs in more than 60% of open surgical procedures which drives up health care costs and is associated with high mortality rates.
Although traditional methods of hemostasis benefit patients and reduce hospital costs, many can be ineffective at controlling disruptive bleeding efficiently. SURGICEL Powder is designed to address continuous, broad-surface oozing and stop bleeding fast. It can easily be applied across broad surfaces making it well-suited for use in a wide range of surgeries, such as certain gynecologic, oncologic, cardiovascular and general procedures.
The Advantages of SURGICEL Powder
The risk of disruptive bleeding during surgery is increasing due to patient factors including a growing number of comorbidities like diabetes, COPD, and cancer; medications such as anticoagulants and antiplatelets; age and complex surgeries. A U.S. study of more than 1.6 million surgeries showed that almost 30% of patients experienced some kind of complication related to bleeding. That figure rises to more than 47% for cardiac surgeries.
While adjunctive hemostats have many benefits, existing devices can be inefficient on broad surface oozing. SURGICEL Powder spreads across broad surfaces, gets right to the source of bleeding and can stop bleeding fast in just 30 seconds - 89% faster than the competition. SURGICEL Powder also provides added handling and versatility for a wide range of surgical procedures and delivery is more precise than the competition, so it can be less time consuming for surgeons and minimizes product waste.
When bleeding is controlled, studies show that hospitals can save money, especially in procedures like cardiac revascularization and cardiac valve surgery, where a savings of $9,000 and $13,000 per procedure was seen, according to one study. Specifically, when adjunctive hemostats are used, up to 40% fewer patients require transfusion, a patient's length of hospital stay is reduced by up to four days and readmissions are significantly reduced.
"At Ethicon, we combine our expert knowledge in science and technology to continuously innovate and bring forth solutions that help clinicians provide patients with a better experience in surgery and allow hospitals to make investments that deliver improved clinical and economic outcomes," said Oray Boston, Worldwide Vice President, Biosurgery Platform Leader at Ethicon. "SURGICEL Powder is an example of our continued promise to keep patients and customers at the center of everything we do."
SURGICEL Powder may be used in a wide range of surgeries, particularly those where continuous broad-surface oozing is common, such as certain gynecologic, oncologic, cardiovascular and general procedures. SURGICEL Powder offers bactericidal activity in vitro, against all five of the hospital-acquired pathogens (MRSA, MRSE, VRE, PRSP, E Coli), is fully absorbable within 7 to 14 days and contains an aggregate of oxidized regenerated cellulose (ORC) fiber fragments that help control capillary, venous, and small arterial hemorrhages. ORC is the same base material found in all SURGICEL® products.
SURGICEL Powder is built on proven SURGICEL® Absorbable Hemostat technology. The SURGICEL Family of Absorbable Hemostats is backed by more than 50 years of proven safety and efficacy.
To learn more about SURGICEL Powder visit: http://www.ethicon.com/healthcare-professionals/products/biosurgery/surgicel-family-of-absorbable-hemostats/surgicel-powder
About Ethicon
From creating the first sutures, to revolutionizing surgery with minimally invasive procedures, Ethicon, part of the Johnson & Johnson Medical Devices Companies, has made significant contributions to surgery for more than 60 years. Our continuing dedication to Shape the Future of Surgery is built on our commitment to help address the world's most pressing health care issues, and improve and save more lives. Through Ethicon's surgical technologies and solutions including sutures, staplers, energy devices, trocars and hemostats and our commitment to treat serious medical conditions like obesity and cancer worldwide, we deliver innovation to make a life-changing impact. Learn more at www.ethicon.com.
SURGICEL Powder Absorbable Hemostat Essential Product Information
INDICATIONS
(oxidized regenerated cellulose) is used adjunctively in surgical procedures to assist in the control of capillary, venous, and small arterial hemorrhage when ligation or other conventional methods of control are impractical or ineffective.
CONTRAINDICATIONS
Do not inject or place SURGICEL Powder into an open blood vessel.
Should not be used to control hemorrhage from large arteries.
When SURGICEL Powder is used to help achieve hemostasis in, around, or in proximity to foramina in bone, areas of bony confine, the spinal cord, or the optic nerve and chiasm, it must always be removed after hemostasis is achieved since it will swell and could exert unwanted pressure.
SURGICEL Powder should not be used for implantation in bone defects, such as fractures, since there is a possibility of interference with callus formation and a theoretical chance of cyst formation.
WARNINGS
Closing with SURGICEL Powder in a contaminated wound without drainage may lead to complications and should be avoided.
SURGICEL Powder should not be impregnated with anti-infective agents or with other materials such as buffering or hemostatic substances.
SURGICEL Powder is dry and there may be difficulties in precise delivery under certain circumstances. Unintentional device placement may result in powder scattering and device migration that may increase the risk of adhesion formation.
Although SURGICEL Powder is bactericidal against a wide range of pathogenic microorganisms, it is not intended as a substitute for systemically administered therapeutic or prophylactic antimicrobial agents to control or to prevent postoperative infections.
Do not attempt to trim the applicator tip.
PRECAUTIONS
SURGICEL Powder should not be used in conjunction with autologous blood salvage circuits, because its fragments may pass through the transfusion filters of blood-scavenging systems.
Use only as much SURGICEL Powder (oxidized regenerated cellulose) as is necessary and apply only where needed for hemostasis. Remove any excess before surgical closure in order to facilitate absorption and to minimize the possibility of foreign body reaction.
In urological procedures, minimal amounts of SURGICEL Powder should be used and care must be exercised to prevent plugging of the urethra, ureter, or a catheter by dislodged portions of the product.
Since absorption of SURGICEL Powder could be prevented in chemically cauterized areas, its use should not be preceded by application of silver nitrate or any other escharotic chemicals.
If SURGICEL Powder is used temporarily to line the cavity of open wounds, it should be removed by irrigation with sterile water or saline solution after bleeding has stopped.
Precautions should be taken in otorhinolaryngologic surgery to ensure that none of the material is aspirated by the patient (e.g., controlling hemorrhage after tonsillectomy and controlling epistaxis).
This applicator tip is not intended for laparoscopic or other endoscopic use.
ADVERSE EVENTS
Paralysis and nerve damage have been reported when other SURGICEL® products were used around, in, or in proximity to foramina in bone, areas of bony confine, the spinal cord, and/or the optic nerve and chiasm.
Blindness has been reported in connection with surgical repair of a lacerated left frontal lobe when other SURGICEL® products were placed in the anterior cranial fossa (see WARNINGS and PRECAUTIONS).
Foreign body reactions have been reported with other products from the SURGICEL® Family of Absorbable Hemostats.
Burning has been reported when other SURGICEL® products were applied after nasal polyp removal. Headache, burning, stinging, and sneezing in epistaxis and other rhinological procedures, and stinging when SURGICEL® product was applied on surface wounds (varicose ulcerations, dermabrasions, and donor sites) have also been reported.
For more information and technical questions, call 1-800-795-0012.
More from Laboratory and Research Supplies and Equipment