Surgical Waveguide combines illumination and suction.
Press Release Summary: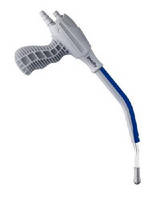 Combining hand-held illumination and Yankauer suction, Eigr™ Saber Waveguide enable surgeons to visualize in small surgical cavities, whether in minimally invasive or open surgeries. Cool light virtually eliminates shadows and glare while minimizing thermal hazards. Available in two tip configurations, Eigr includes attachable pistol grip handle. Unit is suitable for general orthopedic and orthopedic trauma surgeries including total hip replacement procedures and pelvic fracture fixation.
---
Original Press Release:

Invuity® Introduces Eigr(TM) Saber Waveguide with Yankauer



Device to Debut at 80th Annual Meeting of the American Academy of Orthopaedic Surgeons



SAN FRANCISCO,  -- Invuity, a leading developer of advanced visualization devices to optimize minimally invasive surgeries, today debuted its Eigr((TM)) Saber Waveguide with Yankauer suction at the American Academy of Orthopaedic Surgeons (AAOS) annual meeting. Invuity will showcase this innovative technology to leading surgeons at exhibitor booth 455 throughout the 80th Annual Meeting of the AAOS.



A Yankauer suction is the most commonly used surgical suction instrument in the world.  Eigr (pronounced eye-gr) Saber Waveguide with Yankauer is a next-generation surgical device that combines the benefits of superior hand-held illumination and Yankauer suction. Its low profile design provides surgeons with the ability to better visualize in small surgical cavities, whether in minimally invasive or open surgeries.  The Eigr Saber Waveguide with Yankauer is designed for use in general orthopaedic and orthopaedic trauma surgeries including total hip replacement procedures and pelvic fracture fixation.  Approximately 56 million people in the U.S. experience musculoskeletal injuries every year.



In addition to orthopaedic surgeries, the Yankauer suction platform is currently used in millions of other surgical procedures annually in multiple specialties, including cardiac, breast and general surgery.  Eigr Saber Waveguide with Yankauer suction is designed to deliver benefits to surgeons performing these procedures as well.



The Eigr Saber Waveguide with Yankauer integrates the company's proprietary Eigr illumination technology -- brilliant, cool light that virtually eliminates shadows, glare and minimizes thermal hazards.  It is available in two tip configurations and includes an attachable pistol grip handle for improved ergonomics and comfort.



"We have seen very strong adoption of our initial Saber device, the Eigr Saber with Frazier suction configuration for spinal procedures. Orthopaedic surgeons have been asking for a device like this -- hand-held illumination on a larger suction platform.  The Eigr Saber Waveguide with Yankauer model now expands our Saber line and brings the benefits of our Eigr illumination technology to a broader range of procedures and specialties," said Philip Sawyer, CEO of Invuity.



"Illumination and suction are equally important to achieve optimal visualization in a tight operative space.  With this new product, Invuity has effectively married two critical technologies and addressed a pressing clinical need," said Dr. Herrick J. Siegel, Professor of Surgery and Head of Orthopaedic Oncology at UAB Medical Center in Birmingham, Alabama. "The Eigr Saber Waveguide with Yankauer is one of the most significant technological advancements in orthopaedic surgery this year.  I'm excited to begin using it in my total hip replacement, oncology and orthopaedic trauma surgeries."



Last year, Invuity closed $25 million in Series D funding to expand the development, manufacturing and commercialization of the company's advanced medical devices.  The funding was led by Valence Advantage Life Sciences Fund II ("Valence Advantage"), which is run by the team that also manages the Caxton Advantage Life Sciences Fund.  Existing investors Kleiner Perkins Caufield & Byers and InterWest Partners also participated in the financing round, along with Wexford Capital.



About Eigr(TM)

Eigr technology incorporates a proprietary optical waveguide technology with a complex geometry of integrated microstructures to shape illumination within the operative space.  Eigr broadly projects thermally cool, brilliant light to uniformly illuminate deep surgical cavities, providing unsurpassed visualization while virtually eliminating shadows, glare and thermal hazards.  Eigr waveguides are single use products.



About Invuity®

Invuity develops advanced medical devices to dramatically improve access and visualization in minimally invasive and minimal access surgeries.  The company's products incorporate its proprietary Eigr technology into sophisticated hand-held illumination devices and access systems for a variety of surgical specialties including spine, orthopaedics, breast and thyroid oncology and plastic surgery.  The company is headquartered in San Francisco, CA.  For more information, visit www.invuity.com.



Invuity and Eigr are trademarks or registered trademarks of Invuity, Inc.



CONTACT: Brett Robertson/Invuity, +1-415-655-2124, brobertson@invuity.com

More from Software