Surge Suppressor addresses ground transients.
Press Release Summary: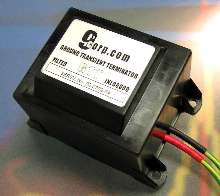 Ground Transient Terminator can be safely placed between case ground and equipment to eliminate ground transients. Passive filter works by opposing changes in electron flow on ground wire. It slows damaging rise and fall time of transient voltage waveform rather than clipping it off, controlling frequency rather than amplitude. Since GTT technology incorporates circuit with no moving parts or sensitive electronics, it does not pose any threat to intrinsic safety ground.
---
Original Press Release:

Breakthrough Technology Gives Designers Previously Unavailable Opportunity to Tackle Power Quality Issues...


ST. CHARLES, IL - The Ground Transient Terminator (GTT) technology developed by ECM Electronics and 9 Corp. sets a new standard for electrical transient and surge suppression for electronic equipment.

In the case of sensitive micro-electronics, ground transients are one of the most frequent problems and can cause significant disruption to the operation of microprocessor-based equipment. Microprocessor circuits are constantly measuring logic voltages against the "zero voltage reference" or ground and it's decisions are the result of discrimination of one rapid voltage transition from another, making ultra-clean and quiet electrical grounds essential. Current microprocessors expect to see less than .5 volts of neutral to ground and future innovations will soon be leading to designs using voltages of near .3 volts. If a microprocessor sees more than .5 volts, system lockups, communication errors, reduced operating productivity, unreliable data, fragmented hard drives, and damage to equipment may be seen causing operational problems that can not be duplicated or explained.

The GTT is the first device that can be safely placed between case ground and equipment in order to eliminate ground transients, helping prevent the above problems from occurring. Dan Weaver, Applications Engineer for ECM Electronics explains, "No previous power protection technology addressed the unsolved problem of ground transients entering a system through the ground line. By eliminating transients on the ground, potentially damaging voltages have no means to enter equipment."

The GTT is a passive filter that works by opposing changes in electron flow on the ground wire. This slows the damaging rise and fall time of a transient voltage waveform rather than clipping it off, controlling frequency rather than amplitude.

The GTT has been designed into the Discovery Channel Telescope located at the Lowell Observatory in Flagstaff, Arizona. Oliver Wiecha, Electrical Engineering Manager for the Discovery Channel, states, "We are extremely excited about the new technology provided by 9 Corp. The GTT is being utilized in the instrument development plans for all of our telescope control panels, thus assuring maximum protection. In moving forward with our project, we now are confident that we have the ultimate in complete, complimentary surge protection available to us."

Additionally, a major audio/video equipment precision manufacturing company has successfully designed the GTT to be included in their rack mount systems, effectively protecting all electronic equipment feeding through its power entry portals housed within. The GTT has also been designed into security system control panels to prevent unintentional triggering of alarms from power induced lightning strikes, ground transients, and device switching of heavy equipment within homes and commercial facilities causing them to malfunction or fail altogether.

Unlike conventional suppression techniques using Metal Oxide Varistor (MOV), gas tube, or silicon diode technology, the GTT technology incorporates a patented circuit with no moving parts or sensitive electronics, and as a result, does not pose any threat to intrinsic safety ground. For this reason, the GTT is the first suppression device to be recognized by Underwriters Laboratories (UL) to be used directly on the ground line of electronic equipment to prevent disruptions in operation.

Research and development of the GTT includes consultation with Underwriter's Laboratories (inc. 1449 and Power Quality Test Committees), Precision Measurement Association, and the International Electronic Committee for Standards and Testing of Computer Power Devices and Electronic Products. Independent testing was also performed by graduate students of Northern Illinois University.

9 Corporation is a power quality management group specializing in identifying and developing solutions for power quality deficiencies. 9 Corp. provides a complete line of surge protection solutions: grounding (GTT), live and neutral (EMI/RFI filters), power conditioners, and current loop isolators to meet the needs of today's sophisticated electronic requirements.

Current product development projects include ground protection for CATV/CCTV applications (the GTTC), and the line corded version of the GTT (the GTTL).

Contact: 9 Corporation: 1121 E. Main #340 St. Charles, IL, 60174 630-762-1148 9corp.com

More from Computer Hardware & Peripherals