Surge Protectors safeguard Ethernet, phone, and video products.
Press Release Summary: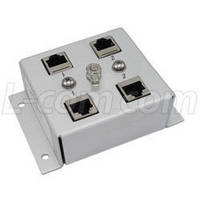 Part of CMSP Series, 2-Port Indoor Lightning and Surge Protectors are designed for variety of applications, including Ethernet Cat5 and Cat6, telephone/DSL, and coaxial video.Models CMSP-VIDEO-2 and CMSP-VIDEO-2I are suitable for protecting surveillance and CCTV cameras, DVRs, surveillance PCs, and video monitors connected to 75 Ω coaxial lines. Surge protectors can be installed on wall or shelf and feature replaceable protection modules.
---
Original Press Release:

L-com Adds New Dual Port Lightning Protectors to Its CMSP Series Line



NORTH ANDOVER, MA — L-com, Inc., a designer and manufacturer of wired and wireless connectivity products, announced today it has added 2-Port Indoor Wall Mount Lightning and Surge Protectors to its current CMSP Series line. The new 2-Port protectors are designed for a variety of applications including Ethernet Cat5 and Cat6, Telephone/DSL, and Coaxial Video. Like the 4-Port versions, these new 2-Port units are designed to protect sensitive equipment from lightning strikes and power surges.



"The CMSP series can be easily installed on a wall or shelf and feature replaceable protection modules," said Ken Burgner, Product Manager. According to Burgner, the cost is relatively low for these protectors when compared to the cost to repair or replace expensive network equipment damaged by electrical surges.



Additionally, L-com's CMSP-VIDEO-2 and CMSP-VIDEO-2I models for video applications are ideal for protecting surveillance and CCTV cameras, DVRs, surveillance PCs and video monitors connected to 75 Ohm coaxial lines.



The following are the newly released models:



CMSP-CAT5-2 - 2-Port 10/100 Base-T CAT5 Protector

CMSP-CAT6-2 - 2-Port 10/100/1000 Base-T CAT6 Protector

CMSP-CAT6T-2 - 2-Port 10/100/1000 Base-T High Power CAT6 Protector

CMSP-DT-2 - 2-Port High Power Telephone/DSL/T1 Protector

CMSP-VIDEO-2 - 2-Port Coaxial Video Protector

CMSP-VIDEO-2I - 2-Port Coaxial Video Protector w/ Isolated Connectors



For more information about this release, please contact:

Peter McNeil

Product Marketing Manager

978-682-6936 x1450

pmcneil@l-com.com



L-com, a global designer and manufacturer of wired and wireless connectivity products, offers a wide range of solutions and unmatched customer service for the audio/video, OEM, military/aerospace, IT, and wireless RF industries. The company's product portfolio includes cable assemblies, connectors, adapters, computer networking components, and custom products, as well as the HyperLink line of wireless antennas, amplifiers, filters/splitters, lightning protectors, weatherproof enclosures, and much more. Trusted for more than 30 years, L-com, Inc. is headquartered in North Andover, Massachusetts, USA, and is ISO 9001: 2008-certified. For more information, please visit:  htt p://www.L-com.com/



Friendly & Knowledgeable Service ? In Stock Availability & Same Day Shipping ? 100% Satisfaction Guaranteed

Connect with L-com:   Twitter   Facebook   YouTube   Google +

Related