Surge Protector achieves low voltage let-through.
Press Release Summary: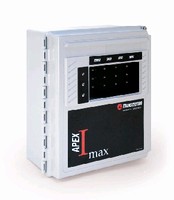 Utilizing silicon avalanche suppressor diode and metal oxide varistor technologies, APEX Imax protects against all transient surge anomalies. It is rated at 65 kA AIC fault current and tested to 160 kA 8/20 µs per IEC 61643-1. Unit includes indicator lamps for power and operation status, as well as dry contact relays for remote status. Listed to UL 1449 2nd Edition standard and Motorola R56 2005 Certified, device is suited for ac main and sub power panels, cell sites, and shelters.
---
Original Press Release:

Transtector's Apex Imax - A New Level of Surge Protection Performance



Transtector Systems, superior protection technology provider for 40 years, introduces the newest invention in surge protection research and development - APEX Imax. The APEX Imax takes mission critical surge protection to an extraordinary level of performance in lightning, surge and fault current mitigation.

Rated at 65kA AIC fault current and tested to 160kA 8/20µs per IEC 61643-1, the APEX Imax achieves low voltage let-through and high current handling capability. It utilizes a combination of fast-acting, low clamp silicon avalanche suppressor diode (SASD) and robust metal oxide varistor (MOV) technologies to achieve ultimate protection against all transient surge anomalies. All APEX Imax units are listed to the latest revision of the UL 1449 2nd Edition standard. The APEX Imax is also Motorola R56 2005 Certified, designed to meet current industry requirements.

The APEX Imax is available in a NEMA 12 steel enclosure or NEMA 4X fiberglass composite
enclosure, SASD/MOV hybrid or MOV technology and various electrical configurations. As all of Transtector's reliable APEX series, the APEX Imax utilizes modular surge cards for user-friendly installation and maintenance.

The APEX Imax is backed by Transtector's standard 10 year manufacturer's warranty.
Further product specifications and part numbers are available on Transtector's web site at www.transtector.com or by contacting Transtector directly.

About Transtector Systems
Transtector Systems is an international provider of power quality products including AC, DC, data and signal surge protection, communications power cabinets, EMP protection, lightning protection, and power quality engineering services. Established in 1967, Transtector was the first surge suppression designer to use non-degrading silicon diodes. We remain at the forefront of the industry, providing optimal solutions to our markets served.

For further information:
Sara Legerski, Marketing Manager, Transtector Systems
Tel.: (208) 772-8515, Email: slegerski@transtector.com

APEX Imax Series
Applications
o AC Main and Sub Power Panels
o Communications
o Cell Sites
o Shelters

Features
o Combines Fast-acting and Low Clamping SASD and MOV Technologies
o Motorola 2005 R56 Certified
o Low Voltage Let-through
o Rated at 65 kA AIC Fault Current
o Tested to 160 kA Surge Current
o Proven APEX Reliability
o Indicator Lamps for Power and Operation Status (Power Applied Suppressor Status)
o Dry Contact Relays for Remote Status
o Available in SASD/MOV and MOV

More from Sensors, Monitors & Transducers