Surface Protectant helps prevent bacterial growth.
Press Release Summary: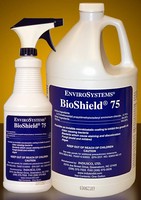 Effective against growth of harmful bacteria, fungi, mold, and mildew, EPA-registered and USDA-accepted BioShield® 75 can be wiped, sprayed, dipped, or misted on range of porous and non-porous products and surfaces. Biostatic antimicrobial surface protectant is water-based and non-toxic, emits no odor, and is colorless. Non-leaching product, safe for use in healthcare, food service, and hospitality/travel industries, provides surface protection effective for up to 90 days or more.
---
Original Press Release:

Geerpres® Introduces New BioShield® 75 Antimicrobial Surface Protectant



Muskegon, MI...Geerpres®, Inc., a recognized leader in the design and manufacture of professional janitorial and sanitation equipment, introduces BioShield® 75, a patented biostatic antimicrobial surface protectant which reduces the growth of harmful bacteria, fungi, mold, and mildew.

BioShield 75, EPA registered and USDA accepted, is a water-based, non-toxic liquid protectant which helps prevent the growth of bacteria. It can be wiped, sprayed, dipped, or misted on a wide range of porous and non-porous products and surfaces. Odorless and colorless, BioShield 75 uses a biostatic, mechanical process and is safe for use within a wide range of environments and industries including healthcare, food service, and hospitality/travel. BioShield 75 is non-leaching, durable, and provides surface protection effective for up to 90 days or more.

Persons are exposed on a daily basis to bacteria that exist in numerous places within buildings and equipment. Frequently touched surfaces such as those found on health care or grocery cart handles, door handles, cell phones, keyboards, light switches, and office equipment can all act as breeding grounds for bacteria which cause illness. BioShield 75 provides an extra layer of protection, a shield, which makes surfaces significantly safer to touch and helps prevent bacterial infection, transference, and cross-contamination.

Available in all commercial sizes including quarts and gallons, BioShield 75 is also available on numerous Geerpres products, which are pre-treated with the protectant including wringers, buckets and carts. Corrosion-resistant, stainless steel is also used in the manufacture of many of the company's products to further reduce the risk of bacterial growth.

Ted Moon, Vice President of Geerpres, Inc., says, "The use of a nanotechnology protectant is proactive and, for some, a new way of thinking in terms of infection prevention and control. Building and facility managers know that regularly scheduled surface cleaning is mandatory. However, there are limitations to the effectiveness of cleaning only. For example, a lobby door handle can be cleaned first thing in the morning but by 9:00 a.m., it has already been touched and exposed to hundreds of persons and the germs they carry. The same is true in a food service kitchen or hotel room. BioShield 75 is a proactive tool used to help prevent the formation and spread of dangerous bacteria and can be effective in numerous environments."

About Geerpres
Geerpres®, Inc., is an industry leader in the design and manufacture of professional janitorial and sanitation equipment. Company products include wringers, buckets, microfiber cleaning systems, carts, mop handles, and cleaning accessories. For more information, visit www.geerpres.com.

BioShield® 75 is a registered trademark of IndusCo. Ltd.

Company Contact
Ted Moon
800.253.0373
ted@geerpes.com
1780 Harvey Street
Muskegon, MI 49443

More from Packaging Products & Equipment