DC to DC Power Supplies (Converters)
Surface Mount DC/DC Converter delivers up to 468 W.
Press Release Summary: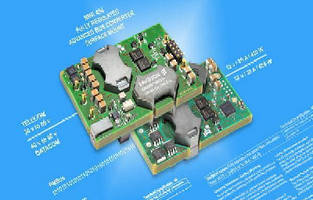 Based on 32-bit ARM microcontroller, FRIDA II BMR456-SI Advanced Bus Converter is available in two input voltage ranges of 36–75 V and 40–60 V, delivering output power of 420 W and 468 W, for telecom and datacom applications, respectively. Output voltage can be adjusted across 4.0–13.2 V range via PMBus commands, making module suitable for Dynamic Bus Voltage operation. In addition, digital converter delivers typical efficiency of 96.5% and exhibits flat curve behavior from 14–100% load.
---
Original Press Release:

Ericsson Saves Board Space with Surface-Mount Advanced Bus Converter



• Ericsson introduces a new surface-mounted version of its second generation of digital Advanced Bus Converter (ABC) products, called the BMR456-SI

• High-efficiency, digitally controlled DC/DC converter compliant to full surface-mount manufacturing processes; high-precision tooled pins guarantee high co-planarity and robustness

• Highly advanced firmware integrated in the BMR456-SI contributes towards significant reduction in energy consumption

• Tightly regulated output voltage (±2%) over the full operational range of 36V to 75V

• Output power up to 468W for datacom applications



The BMR456-SI is based upon the FRIDA II platform, which was announced last year, both the surface-mount BMR456-SI and the through-hole BMR456-PI quarter-brick 3E* Advanced Bus Converters deliver unprecedented performance to system architects that are developing equipment for ICT (Information and Communication Technology) applications. These applications require fast response time, tightly regulated intermediate bus voltages and high efficiency at any point of operation to reduce power consumption.



Since the shipment of the first surface-mount version of the company's FRIDA platform in 2010, the platform has enjoyed significant adoption with the growing demand for high-power DC/DC modules to power highly integrated surface-mount boards."Ericsson is the only company in the industry to offer high-power DC/DC modules that are digitally controlled and also offer a surface-mount option,"said Patrick Le Fèvre, Marketing and Communication Director, Ericsson Power Modules. "The addition of a surface-mount version to the PMBus compliant FRIDA II BMR456 DC/DC converter family is an indication of the strong market demand for highly integrated power technology that can also make a significant contribution to reducing energy consumption."



Surface Mount for Increasing Board Density

Board density is increasing and to simplify manufacturing processes, power module suppliers need to offer surface-mount alternatives to conventional through-hole versions. Although it is not necessarily an issue at low- and mid-power levels, it can be a significant challenge for high power modules and even more so when these modules require additional I/O.



Ericsson's advanced mechanical surface-mount technology is based on highly accurately tooled pins that are inserted and aligned during the original assembly process. The same hardware is used for through-hole and surface-mount versions of the BMR456, which increases the flexibility and speed of manufacturing and contributes to smaller lead times. The surface-mount pins are manufactured with very tight tolerances, guaranteeing co-planarity and mechanical accuracy. This process ensures high reliability and host equipment availability.



In addition to input and output power connections, additional I/O (+/– output remote sense, address pin, PMBus clock and data, power good and user configurable I/O, PMBus ground, PMBus alert signal and PMBus remote control or current sharing) is made available through a micro-interface. This connector has been designed to comply with Ericsson's advanced high-precision surface-mount technology and to guarantee full alignment and co-planarity during different soldering processes.



FRIDA II Platform

The FRIDA II generation of fully regulated digital DC/DC converters is based on a 32-bit ARM microcontroller that embeds the family's most advanced firmware to date, called the 'Ericsson DC/DC Energy Optimizer'. This combines advanced Ericsson Intellectual Property (IP) together with a series of industry-first functionalities to continually optimize switching parameters and reduce energy consumption to an absolute minimum. The firmware has been developed to guarantee the highest possible performance at any point of operation from low load to high load, and to handle line transients, such as those occurring in ATCA (Advanced Telecommunications Computing Architecture) applications when, for example, switching from Feed A to Feed B.



Designed to power telecom and datacom applications, the BRM456-SI is available in two input voltages ranges: 36V to 75V (telecom), delivering output power of 420W; and 40V to 60V (datacom), delivering output power up to 468W. Output voltage can be adjusted across a range from 4.0V to 13.2V via PMBus commands, making the module suitable for Dynamic Bus Voltage operation resulting in the reduction of energy consumption when communication data traffic is low.



In addition, taking full advantage of a highly optimized layout and firmware-optimized parameter switching to reduce power losses, the BMR456-SI delivers a typical efficiency of 96.5% and exhibits flat curve behavior from 14% to 100% load, positioning the product as the most efficient Advanced Bus Converter in its category.



The BMR456-SI meets the insulation requirements of EN60950, sustains an I/O isolation voltage of 2250 VDC, and also offers an extensive set of capabilities and features such as: remote sensing; PMBus-configurable protection (over-temperature, over-current and over-voltage); configurable start/stop; precision delay ramp-up; voltage margining; configurable fault response; power good; and extensive power management programmability.



The price of the BMR456-SI starts at $46 in OEM quantities.



* 3E stands for: Enhanced Performance, Energy Management, and End-user Value.



FOR FURTHER INFORMATION, PLEASE CONTACT

Patrick Le Fèvre, Marketing and Communication Director, Ericsson Power Modules

Phone: +46-10-716 95 07



Reader Inquiry reference:

Reference: E0176(A)



If printing an Internet address please use Power Modules homepage and/or phone number to our International sales office:



Europe, Middle East & Africa: +46-10-716 96 20

Asia Pacific: + 86-21-5990 3258

Japan: +81 80 3363 3987

Americas: +1-972-583 6910 or +1-972-583 5254



About Ericsson Power Modules

www.ericsson.com/powermodules

More from Agricultural & Farming Products