Surface Heaters protect diesel exhaust fluid containers from cold.
Press Release Summary: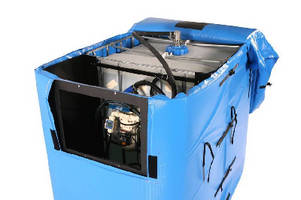 Utilizing GreenHeat Technology, Wraparound DEF Heaters apply heat to DEF containers externally, enabling safe and consistent warming without compromising chemical integrity of fluid, and eliminating potential for contamination and localized boiling. Standard models are rated to -10°F, while Arctic versions perform down to -40°F. Powered by 120 V, tote heaters are available in 275 and 330 gal sizes with winter-proof and water-resistant outer shell and preset digital thermostat.
---
Original Press Release:

Powerblanket Surface Heaters Protect Diesel Exhaust Fluid In Cold Weather



SALT LAKE CITY - Designed to meet the specific temperature demands of the growing Diesel Exhaust Fluid (DEF) market, Powerblanket's line of wraparound DEF heaters offer an ideal solution for year-round temperature control of DEF totes, pumps and dispensing units. Utilizing patented GreenHeat Technology, the heaters provide filling stations, fleet managers, farmers and other users with a barrier of insulated heat that protects against freezing in cold weather environments.

GreenHeat Technology is a revolutionary heat spreading system that is designed to provide a highly efficient and uniform distribution of heat while consuming low levels of energy. The technology allows DEF products to be safely and consistently warmed without compromising the chemical integrity of the DEF. By applying heat to a DEF container externally, Powerblanket's heaters eliminate the potential for contamination, localized boiling and purity failures associated with submersible heaters.

The DEF heaters are manufactured and certified to UL, CSA and ETL safety standards, as well as GreenHeat Technology environmental standards. Two standard models are available for 275- and 330-gallon tote sizes, and custom sizes are also available upon request. By maintaining consistent temperature for the entire unit, the heaters ensure year-round functionality of DEF containers, pumps, valves, hoses and nozzles.

Standard Powerblanket DEF heaters are rated to -10 degrees Fahrenheit (-23 Celsius) while Arctic versions are rated to perform in temperatures as low as -40 degrees Fahrenheit (-40 Celsius). The insulated GreenHeat design will also provide several hours of extended protection in the event of a temporary power failure. The heaters also serve to shield DEF from damaging UV rays, thereby protecting the fluid even in instances where cold weather is not a concern.

Powerblanket's heated enclosures are lightweight and easily secured with adjustable nylon straps that provide a snug fit to maximize heating performance. The entire system can be installed or removed by one person in 10 minutes or less. The DEF heaters are safe to use on both metal and plastic containers, and help maintain flow and purity. Built with a durable outer shell that is winter-proof and water resistant, each tote heater is powered by 120V electricity and includes a preset digital thermostatic controller.

Other DEF heating solutions include Powerblanket's drum, bucket and pail heaters, as well as the Hot Box bulk storage enclosure. Engine and automotive warmers are also available.

Powerblanket provides superior heating solutions for a multitude of applications, including ground thawing, concrete curing, industrial and manufacturing temperature control, oil field services and many more. For more information, contact Powerblanket, 1997 South 5070 West, Salt Lake City, UT 84104, call 877-398-7407 in the U.S. or 403-262-5770 in Canada, fax 801-601-2222, send an e-mail to info@powerblanket.com, or visit the company's website at powerblanket.com.

Related