Surface Finishing Discs work with range of materials, equipment.
Press Release Summary: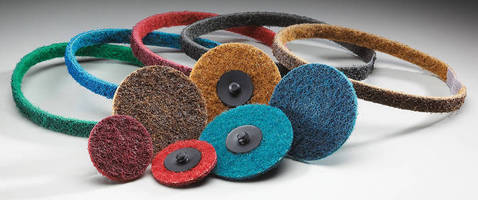 Made of non-woven nylon impregnated with abrasive grain and smear-free resin, Norton Rapid Prep surface conditioning discs is suitable for surface finishing applications such as removing surface defects, oxides and corrosion, deburring, mold cleaning, and blending uneven edges and marks. Products work with right-angle grinders, in-line grinders, and die grinders and have open structure that resists loading on softer materials while optimizing surface finishing results on hard materials.
---
Original Press Release:
Saint-Gobain Introduces Norton Rapid Prep High Performance Surface Finishing Portfolio
Norton Vortex Rapid Prep delivers up to 4X the performance of conventional surface finishing products

WORCESTER, MA –Saint-Gobain Abrasives, the world's leading manufacturer and supplier of performance engineering abrasives, has introduced its new portfolio of Rapid Prep products under the Norton brand.  Made of non-woven nylon impregnated with abrasive grain and a proprietary smear-free resin, Norton Rapid Prep surface conditioning discs are ideal for surface finishing applications such as removing surface defects, oxides and corrosion, deburring, mold cleaning and blending uneven edges and marks, across industries ranging from aerospace and transportation, to energy and metal fabrication. Norton Vortex Rapid Prep's state-of-the-art design enables up to four times the performance of available surface finishing products on the market.

For use with right-angle grinders, in-line grinders, and die grinders, Norton Rapid Prep products feature an open structure that resists loading on softer materials like aluminum and provides excellent surface finishing on hard materials like cast iron, steel, nickel, and alloys, increasing overall operational efficiency.

"Saint-Gobain Abrasives' technical expertise combined with the most comprehensive range of products worldwide provides improved efficiency, higher productivity and reduced labor for our customers," according to Paul Krupa, Product Manager, Saint-Gobain Abrasives. "Our Norton Rapid Prep portfolio of products has been specifically designed to meet the high performance surface treatment needs of our customers across key industrial markets."

A multi-purpose surface finishing product line, the Norton Rapid Prep portfolio delivers continuous cutting on soft and hard materials. Norton Vortex Rapid Prep features a patented Vortex grain technology that can deliver up to four times the performance of conventional surface conditioning discs, while standard Norton Rapid Prep is ideal for all deburring and blending applications.

Norton Rapid Prep products can be used in aerospace for blending and deburring airframes and investment cast parts, reducing cycle times by simplifying processes and enhancing productivity and efficiency. For the transportation industry, Norton Rapid Prep products are well-suited for frame repairs, weld blending, and surface paint preparations, including scuffing and blending, as well as engine gasket removal, providing improved productivity and reduced labor requirements.

For the oil and gas industry, the Norton Rapid Prep portfolio is ideal in blending and deburring applications, increasing uptime and maintaining operational efficiency. Finally, for numerous metal fabrication, and maintenance and repair operations, Norton Rapid Prep solutions offer fast and efficient blending, deburring, surface prep prior to painting, and rust and paint removal.

"Our patented Vortex grain technology is designed for superior surface finishing across various industrial markets where performance is everything," says Krupa.  "Combined with our proprietary smear-free resin formulations, we are able to provide our customers with the highest level of surface prep to increase overall efficiency and help maintain cost-effective operations."

About Norton
Founded in 1885, Norton Company manufactured the first precision-made and mass-produced grinding wheel, and was one of the first producers of commercial coated abrasives. Today, Norton-brand products are used widely across a variety of industries, including manufacturing, construction, aerospace, electronics, and general automotive, among others. The company's proprietary resins and non-woven materials offer improved productivity and faster throughput, reducing labor requirements, and helping customers complete projects more quickly. In 1990, Norton was acquired by Saint-Gobain, the world leader in the manufacture of engineered materials, headquartered in France. To learn more about Saint-Gobain Abrasives' Norton brand capabilities and offerings, please visit: http://www.nortonindustrial.com/Bear-TexNon-wovenDepressedCenterWheels.aspx
More from Fluid & Gas Flow Equipment