Surface and Profile Grinder suits high-volume production.
Press Release Summary: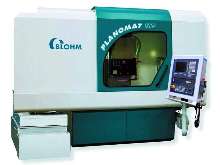 Featuring GE Fanuc 18i control, Blohm Planomat 408 HP, in split splash guard configuration, keeps doors open and lets operator exchange parts while machine goes through dress cycle. Linear guideways in all axes consist of 6-row ball and 4-row roller bearing systems that provide stick-slip free positioning. Work area is entirely enclosed to contain high-pressure coolant, and grinding range is 800 x 400 mm. Table clamping area is 1,200 x 400 mm.
---
Original Press Release:

Planomat 408 HP Designed for High-Volume Production


MIAMISBURG, OH - The Blohm Planomat 408 HP, a Universal Surface and Profile grinding system from United Grinding Technologies, Inc. (UGT), is being shown in a split splash guard configuration, making it ideal for high-volume production applications.

Chris Stine, vice president, says that in a typical configuration, parts are loaded, the operator pushes "Cycle Start" and the machine goes through a dressing cycle, then moves over and grinds the part, then goes to the load/unload position. The operator exchanges parts and the cycle starts all over again.

"In the split splash guard configuration," Stine says, "while the doors are open and the operator is exchanging parts, the machine goes through the dress cycle. Dressing and part exchange happen simultaneously, so when the operator pushes "Start", the machine immediately begins grinding. By combining part exchange and dressing, overall cycle time can be increase by as much as 40 percent in high-volume production environments."

The Planomat 408 is designed from the ground up around a modular concept platform common to all Blohm machines. The machines are assembled from base modules, including the machine bed, column, wheelhead and machine table. These modules are manufactured in batches to assure absolute quality and consistency in machine construction. Specific guideways, drives, and controls are then added to the assembled base to meet customer-specific requirements.

High-precision linear guideways in all axes consist of 6-row ball and 4-row roller bearing systems and provide stick-slip free, highly accurate positioning with minimal maintenance. The Planomat work area is entirely enclosed to fully contain high-pressure coolant.

Specifications
The grinding range is 800 mm x 400 mm. Table clamping area is 1,200 mm x 400. Distance between table surface and spindle center is 150 mm, while the grinding wheel is 400 mm x 80 mm x 127 mm (optional 400 mm x 120 mm x 127 mm).

The 18 kW variable speed main spindle achieves speeds up to 6000 rpm, standard (8000 rpm, optional).

Axes travels: X-axis travel is 900 mm with a rapid traverse of 30 mm/min to 30,000 mm/min. Y-axis travel is 550 mm (optional 800 mm) with a rapid traverse of 4 mm/min to 3750 mm/min. Z-axis travel is 360 mm with a rapid traverse of 4 mm/min to 4000 mm/min.

Dressing
Dressing options include highly flexible CNC diamond disk dressing, ideal for short-run applications, or full form diamond roll dressing for higher-volume production operations. The diamond disk, combined with the machine CNC axis, allows operators to program any form or shape in the wheel quickly and accurately. Fast initial dressing with specific roughing tools reduces cost due to reduced wear on precision diamond tools. Both dressing options are from table units.

Additional features, such as Auto wheel balancing, compensating coolant spouts and HSK clamping spindles are optionally available.

Control
The GE Fanuc 18i is a robust and user-friendly CNC control. The color flat screen is cleanly arranged for simplified programming with menu bars, softkeys and a Windows(TM) graphic user interface. Setup is fully supported and aided by iconographies, and optional parallel operation permits programs to be entered and optimized during the grinding process. Loop interrupt cycles allow intermediate measurement. Other features include DNC capability and remote diagnostics via modem/phone line.

Although programming on the 18i is fast, easy and straightforward (no sophisticated programming expertise required), complex part geometries and grinding routines can be solved with equal ease and flexibility. Tool management of up to 50 dressing tools or grinding wheels permits quick and simple changeovers. Standard cycles and macros enable fast, simple program generation. Automatic swivel grinding angle calculation can be simulated for all contour dressing operations, eliminating potential collisions during actual dressing.

A user-friendly Siemens 840 D CNC control is also available upon request.

Blohm Maschinenbau GmbH has been building surface and profile grinding machines for more than 50 years. The "standard" for precision, quality and reliability in surface and profile grinding, Blohm has more than 15,000 installations worldwide. Blohm surface and profile grinding machines are supported by an expert team of grinding specialists and a worldwide support and service network.

United Grinding Technologies Inc., the North American arm of the Korber-Schleifring Group and supplier of such venerable nameplates as Blohm, Ewag, Jung, Magerle, Studer, Studer Mikrosa and Studer Schaudt, is a global leader in grinding technology and has built a reputation for industry-leading innovation and unparalleled service and support

For more information, contact United Grinding Technologies, Inc.; 510 Earl Blvd., Miamisburg, OH, 45342. Tel: 937/847-1222. Fax: 937/859-1115. www.grinding.com.

More from Machinery & Machining Tools