Suppression System isolates potentially explosive devises.
Press Release Summary: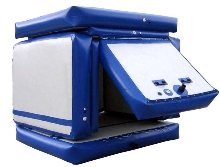 Waterwall(TM) Suspicious Object Isolator (SOI) is water inflated, rapidly deployable blast suppression device that isolates suspicious objects to protect both people and infrastructures. It reduces pressure behind blast wave, absorbs heat, and decreases or eliminates fragmentation. Open at top and bottom to facilitate deployment and for access to suspicious object, SOI is designed for use by first responders when addressing emergency situations.
---
Original Press Release:

Cintec America Introduces the Waterwall(TM) System For Airport Security Management and Port Security.


Ideally suited for first-response personnel and specialist emergency crews

WASHINGTON, DC - CINTEC America, designer and manufacturer of the CINTEC Reinforcing Anchor System, introduces the Waterwall(TM) System, a series of water inflated, rapidly deployable, blast suppression devices designed to isolate or shield suspicious objects in order to protect both people and infrastructures.

Ideal for security management of airports, the police, private security guards, customs control and regional bomb squads, the Waterwall System comes in various designs to suit many scenarios. Extensive research and development has demonstrated the exceptional qualities of the Waterwall in mitigating the effects of a blast. Pressures behind the blast wave are substantially reduced, heat is absorbed and fragmentation is either eliminated or significantly decreased. The Waterwall's rapid deployment can also lessen the inevitable disruption resulting from dealing with such an incident, whether it proves to be a genuine threat or a false alarm.

The Waterwall's Suspicious Object Isolator (SOI) is designed to isolate potentially explosive devises that may be found at baggage control, or unattended cases within an airport terminal. When required, it is first inflated with air to provide stability, and then filled with water through a fire-hose. The water displaces the air through a series of pressure relief valves. Each unit is open at the top and bottom to facilitate deployment for access to, and inspection of, the suspect object. In the event of a hoax device or redeployment elsewhere, the water can be pumped out and the Bomb Bin deflated.

The SOI is designed by first responders for use in responding to emergency situations, or, to deploy when suspect objects are identified, such as questionable items found next to a luggage x-ray machine.

Its compact design allows for easy storage and rapid deployment wherever and whenever necessary. Its specific dimensions are tailored to suit customer requirements, as is the selection of the internally reinforced fabric used in its construction.

The exterior of an airport terminal can be protected by the three meter high Waterwall, a formidable barrier that will protect people and buildings from the effects of a car bomb or similar device. The Cargo Isolation System is designed to isolate suspicious cargo when necessary. All of the products in the Waterwall series can be supplemented with the additional appropriate chemicals necessary to treat CBR devices.

About CINTEC

CINTEC America is a world leader in the field of structural masonry retrofit strengthening, repair, and preservation. CINTEC America of Washington, D.C. has associated offices in Newport, Wales, UK; Newcastle, Australia; Ottawa, Canada and in India.

The principal activity of the company is the design and manufacture of the CINTEC Reinforcing Anchor System, a micro cement anchoring and reinforcing technique. CINTEC offers complete structural analysis and design services, turnkey solutions, as well as masonry repair and reinforcement anchors used for blast protection, seismic reinforcement, historic preservation and overall building strengthening.

CINTEC was awarded the 2002 Queen's Award for Enterprise in Innovation and received two U.K. Historic Bridge Awards and an Engineering Excellence Award from The Institution of Engineers, Australia in 2001. CINTEC is also a registered contractor with the US Defense Logistics Agency and is part of the Blast Mitigation Action Group's commercial-off-the-shelf (COTS) program.

For more information, call 1-800-363-6066; fax: 1-800-461-1862; e-mail: blastec@cintec.com or visit www.cintec.net.

More from Computer Hardware & Peripherals