Supply Chain and Kitting Solutions Reduce Waste Costs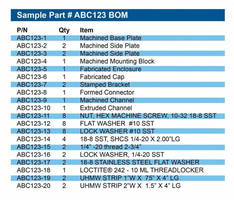 These days businesses are trying to run as lean as possible and therefore more demands are placed on the employees. When it comes to keeping your business running, the requirements are pretty simple from your supply chain. You require good products, on time with the flexibility of suppliers to work with you.



All too often this means that buyers and materials managers are trying to improve their throughput. However, to keep costs down, an organization might have to reduce total head count. So how can improvements be achieved with all the requirements and purchase orders that need to be issued and managed?



The cost of a purchase order



What is the cost of issuing a PO? This question has been asked by many but it is hard to answer. According to Supply Chain Digest, this cost could be as much as $506 per order. That cost is an intangible one that gets wrapped into a company's overhead costs.



In addition to placing the order, what happens when schedules change and those POs need to be changed and inventories managed? What is this cost?



Aside from issuing a PO and the associated costs, companies often overlook other costs connected with POs such as incoming inspection, freight costs, internal moves, etc. How do these aspects affect the basic principles of lean production?



Where is the waste and how do we get rid of it?



The seven forms of waste in an organization are:



Overproduction

Waiting / Que Time

Transporting / Moving

Inappropriate Processing

Inventory / Excess Inventory

Excess Motion / Disorganization

Scrap / Rejects



Having assemblies made on the outside is a great way to reduce waste costs, but what happens when there is not a clear "assembly"? The answer is product kitting. Kitting is the concept of reducing your purchases into product kits that make sense with key suppliers.



Image of Quality



If you have key suppliers that provide products, explore what else they could provide in a package of products that could help your business in your manufacturing cells or assembly process. For example, if you have a product with 100 part numbers in a bill of materials (BOM) and they are in three main categories such as machined components, electrical components and fabricated components, try to consolidate the other purchase products into product kits that make sense from these key suppliers. You may require items such as nuts and bolts, inserts, gaskets, etc. You can make kit part numbers where your suppliers provide all the needed hardware in kit packs that fit your assembly process. This will reduce your overhead costs to manage hundreds of POs, suppliers, schedule changes, inventory, waiting and more.



The kitting concept is simple but few organizations actually make the move to true product kits. At Vulcan GMS, we manufacture many different types of products and assemblies but kitting is really where you can truly reduce waste and the cost associated with it.



When it comes to kitting, the age old quote of "work smarter not harder" rings true and should be applied to your business. Step back from the day-to-day to consider the concept wherever you can. The elimination of waste can be monumental once you begin.



In the sample BOM at the beginning of this post there could be 10 or more suppliers to provide these 20 component parts. This means:



10 RFQs

10 POs issued

10 freight bills

10 POs to track and monitor

10 incoming inspections

10 sets of separate paperwork and certifications

10 sets of ROHS compliance documents for your hardware

10 sets of inventory to enter into your system

Possible inventory mismatch or shortages

ETC.



The point of the example above is to show how much overhead cost actually goes into an assembly. All of this cost and time is absorbed into your organization whether you recognize it or not. By changing your sourcing perspective to move toward assemblies or product kits, overhead costs can be drastically reduced.



In the example above, this could be an assembly of a kit where one supplier provides as complete. Putting all of these items in this BOM above into a kit or assembly would put all of these parts within one source which would mean:



1 RFQ

1 PO issued

1 freight bill

1 PO to track and monitor

1 incoming inspection

1 set of separate paperwork and certification

1 set of ROHS compliance documents for your hardware

1 set of inventory to enter into your system

Reduced costs, reducing your time to manage suppliers, reduced tracking, reduced freight, reduced inspection, reduced inventoried part numbers, etc.



Contact Vulcan GMS to learn more about how we can help you in your lean journey through new ideas.