SuperSpeed USB Controller combines high throughput, low power.
Press Release Summary: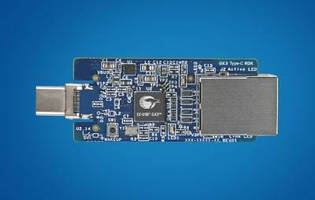 Targeting slimmer laptop designs that include ultra-thin USB Type-C port and no Ethernet port, EZ-USB® GX3™ comes in 68-pin QFN package and converts Gigabit Ethernet (GigE) data to USB 3.0 data. OS driver support — Windows, Mac OS, Linux, Android, and Chrome — enables plug-and-play operation via USB 3.0 port on laptops, tablets, docking stations, IP STBs, and smart TVs, and data transfer mechanism sends multiple GigE data packets in bursts over USB to provide 910 Mbps throughput.
---
Original Press Release:

Cypress Introduces High-Throughput, Low-Power USB 3.0 Controller that Brings Seamless Gigabit Ethernet Connectivity to Laptops and Docks



New EZ-USB® GX3(TM) Controller Capitalizes on Migration to Thin USB Type-C Ports and Slimmer System Designs that Exclude Ethernet Ports



SAN FRANCISCO -- Cypress Semiconductor Corp. (NASDAQ: CY) today announced a new high-throughput, low-power SuperSpeed USB controller that converts Gigabit Ethernet (GigE) data to USB 3.0 data. The EZ-USB(® )GX3(TM) controller targets slimmer laptop designs that include an ultra-thin USB Type-C port and no bulky Ethernet port. GX3 provides comprehensive driver support for all major operating systems, including Windows, Mac OS, Linux, Android and Chrome, enabling seamless plug-and-play operation via a USB 3.0 port on any system, including laptops, tablets, docking stations, IP set-top boxes and smart TVs.



Cypress is demonstrating the EZ-USB GX3 controller, its EZ-USB SuperSpeed USB portfolio and its EZ-PD(TM) USB Type-C Power Delivery portfolio here at the Intel Developer Forum at booth number 910 in the USB Community from August 18-20, 2015.



Conventional USB 3.0 to GigE bridge solutions present designers with limited throughput performance and power management challenges. For throughput, converting GigE data packets to USB 3.0 data packets reduces the throughput of conventional USB 3.0 to GigE bridge controllers to around 700-800 Mbps. EZ-USB GX3 uses a proprietary data transfer mechanism that sends multiple GigE data packets in bursts over USB to provide 910-Mbps throughput, which is comparable to the 950-Mbps throughput of native GigE solutions. For power, it is difficult for a conventional USB 3.0 to GigE solution to support low-power modes of both the USB 3.0 and GigE standards, but GX3 offers a power-efficient solution for both with multiple power-saving modes.



"The Apple(®) MacBook(®) eliminated the Ethernet port years ago, and Ultrabooks and Chromebooks have followed suit, but consumers still want GigE connectivity to stream HD content and for other applications requiring high-bandwidth," said Mark Fu, Senior Marketing Director of the USB 3.0 product line at Cypress. "Our new EZ-USB GX3 solution seamlessly brings high-throughput GigE connectivity to any USB 3.0 system, whether via a standard USB Type-A port or the new USB Type-C port. GX3 further strengthens our SuperSpeed USB portfolio, and in conjunction with our groundbreaking, programmable EZ-PD(TM) USB Type-C Power Delivery solutions and our EZ-USB HX3 USB 3.0 Hub, Cypress can now enable a true one-cable docking solution for laptops, tablets and other portable devices."



The EZ-USB GX3 controller includes on-chip Gigabit Ethernet MAC and PHY support 802.3az Energy Efficient Ethernet and other advanced power management features, including Wake-on-LAN, dynamic power saving modes during idle or light traffic, and an AutoDetach feature that "soft-disconnects" the GX3 from the USB host whenever Ethernet cable is unplugged. The USB PHY and controller are fully compliant with the USB Link Power Management (LPM) policy, supporting U0, U1, U2 and U3 low-power states. Furthermore, GX3 includes an IPv4/IPv6 packet Checksum Offload Engine (COE) to reduce CPU loading, providing IPv4 IP/TCP/UDP/ICMP/IGMP and IPv6 TCP/UDP/ICMPv6 checksum and generation.



The USB Type-C standard is gaining rapid support with top-tier PC makers by enabling slim industrial designs, easy-to-use connectors and cables, the ability to transmit multiple protocols, and 100W power delivery (PD)--a significant improvement over the previous 7.5W standard. The USB Type-C standard's 2.4-mm-high connector plug is significantly smaller than current 4.5-mm USB Type-A standard connectors. It also allows for transport of USB signals and DisplayPort signals on the same connector. More information on Cypress's USB Type-C and USB power delivery solutions is available at www.cypress.com/Type-C.



Availability

The CYUSB3610 EZ-USB GX3 controller is now sampling and is available in a 68-pin QFN package. Additionaly, Cypress offers a USB Type-C to Gigabit Ethernet Dongle Reference Design with complete hardware design files (schematics, board layout, etc.).



About Cypress's EZ-USB Portfolio

Cypress's SuperSpeed USB (USB 3.0) portfolio began with EZ-USB FX3(TM), the industry's only programmable SuperSpeed USB (USB 3.0) peripheral controller. The portfolio now includes the EZ-USB CX3(TM) camera controller, the EZ-USB FX3S(TM) RAID-on-Chip controller, the EZ-USB SD3 storage controller, the EZ-USB HX3(TM) hub controller and the EZ-USB GX3 USB 3.0 to Gigabit Ethernet bridge controller. For more information on Cypress EZ-USB SuperSpeed USB (USB 3.0) solutions, please contact Cypress at usb3@cypress.com.



Follow Cypress Online

--  Read our Core & Code technical magazine and blog.

--  Join the Cypress Developer Community.

--  Follow @CypressSemi on Twitter.

--  Visit us on Facebook and LinkedIn.

--  Watch Cypress videos on our Video Library or YouTube.



About Cypress

Cypress (NASDAQ: CY) delivers high-performance, high-quality solutions at the heart of today's most advanced embedded systems, from automotive, industrial and networking platforms to highly interactive consumer and mobile devices. With a broad, differentiated product portfolio that includes NOR flash memories, F-RAM(TM) and SRAM, Traveo(TM) microcontrollers, the industry's only PSoC(®) programmable system-on-chip solutions, analog and PMIC Power Management ICs, CapSense(®) capacitive touch-sensing controllers, and Wireless BLE Bluetooth(®) Low-Energy and USB connectivity solutions, Cypress is committed to providing its customers worldwide with consistent innovation, best-in-class support and exceptional system value. To learn more, go to www.cypress.com.



Cypress, the Cypress logo, EZ-USB, PSoC and CapSense are registered trademarks and GX3, EZ-PD, FX3, CX3, FX3S, HX3, F-RAM and Traveo are trademarks of Cypress Semiconductor Corp. All other trademarks are property of their owners.



CONTACT:

Samer Bahou

Cypress PR

(408) 232-4552

samer.bahou@cypress.com

More from Printing & Duplicating Equipment