Superior Introduces Road Portable Models of Extended Telestacker with conveyor sizes from 170-190 foot.
Press Release Summary: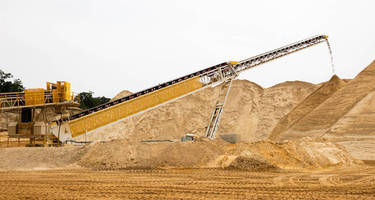 Offering road portability, Extended Telestacker® enables owners and operators of 48-inch by 170-foot and 42-inch by 190-foot telescopic radial stacking conveyors to save costs associated with on-site assembly and freight costs. Units provide the owner or the operator the flexibility to transfer Telestacker from one site to another.
---
Original Press Release:
Superior to Manufacture Road Portable Models of Extended Telestacker® Conveyor Sizes
Morris, Minn. - Superior Industries, Inc., a U.S. based manufacturer and global supplier of bulk material processing and handling systems, has released new road portable models of its extended size 170-foot and 190-foot Telestacker Conveyors.

Previously, owners and operators of 48-inch by 170-foot and 42-inch by 190-foot telescopic radial stacking conveyors assembled the units onsite. Road portability saves users money by eliminating costs associated with on-site assembly and drastically reduces freight costs. Additionally, road portability brings greater value to operators by allowing them to transfer the units from site to site.

About Superior Industries, Inc.

Superior Industries engineers and manufactures groundbreaking, bulk material handling equipment and cutting-edge components. From its headquarters in Morris, Minnesota, USA, the manufacturing firm supplies bulk crushing, screening, washing and conveying systems for industries including construction aggregates, mining, bulk terminals, agriculture, power and biomass. In addition to its home plant in Minnesota, the 43-year-old Superior operates from additional engineering and manufacturing plants in Alberta, Canada; Arizona, USA; Georgia, USA; Michigan, USA; Nebraska, USA; and New Brunswick, Canada.

For more information, contact:

Corey Poppe, Marketing Communication Manager
315 East State Highway 28
Morris, Minnesota 56267 U.S.A.
+1 (320) 589-2406
corey.poppe@superior-ind.com

www.superior-ind.com
More from Communication Systems & Equipment