Superflex® Plus Servo Cable Assemblies come with polyurethane jacket.
Press Release Summary: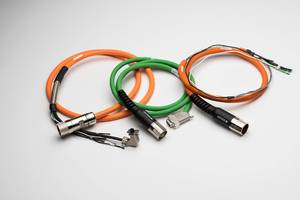 Superflex® Plus Servo Cable Assemblies are compatible with drive systems such as Bosch Rexroth®, Allen-Bradley® Standard 2090 and Siemens® 6FX. Units are integrated with HIPERFACE DSL interface.
---
Original Press Release:
LUTZE Servo Cable Assemblies for Continuous Flexing Applications
LUTZE Inc has a long standing reputation as a manufacturer of factory automation cables such as LUTZE Superflex® Plus. This high performance flexing cable with Polyurethane jacket is available pre-assembled and designed to work with existing servo drive systems such as Bosch Rexroth®, Allen-Bradley® Standard 2090 and Siemens® 6FX .
Furthermore, LUTZE offers a new single cable solution where power and feedback is included in the same cable. This cable design is compatible with any system using the HIPERFACE DSL Interface and has been tested by the original interface system supplier. LUTZE's cable design provides outstanding mechanical and electrical performance in continuous motion applications and is optimally suited for use with various servo systems. LUTZE cable assemblies offer low cable capacitance values and small cable ODs. These features lead to better performance and increased up time.
LUTZE Inc designs and manufactures control products for factory automation and specializes in flexible industrial cable marketed under the following brands: LUTZE Silflex®, Superflex®, Superflex® Plus, DRIVEFLEX®; grounding and wire management products, compact power supplies, LSC-Wiring System for control cabinets, current control system LOCC-box and LCIS relays.
LUTZE Inc located in Charlotte, NC, is part of the LUTZE International Group. Founded in 1958, LUTZE International Group has manufacturing and distribution operations in Germany, Austria, France, Switzerland, Great Britain, Czech Republic, Spain, China and the USA. Efficiency in Automation!
Related