Superabrasive Turning Center offers 3- and 4-axis machining.
Press Release Summary: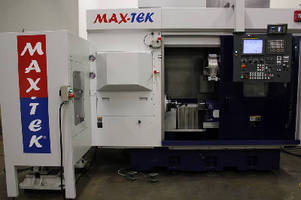 Using 50 hp, 9,000Â rpm belt-driven grinding spindle and 11 hp, 3,500Â rpm work spindle motor, MAX-TEK STC-300 ATC provides heavy stock removal in difficult-to-machine materials with interrupted geometry. System features 8-position automatic wheel changer and utilizes plated and vitrified CBN grinding wheels. Multiple grinding operations requiring several wheel shapes and finishing characteristics can be performed in single setup. Wheel dressing is available for profile dressing of wheel shapes.
---
Original Press Release:

MAX-TEK Launches Their New MAX STC-300 ATC Superabrasive Turning Center



MAX-TEK designs and sells Superabrasive Machining Systems specifically suited for a variety of customer applications in the aerospace, power generation, automotive, compressor, pump, and medical device industries. They have developed several innovative cost competitive machine designs that are the culmination of over 25 years of Superabrasive machining, Superabrasive machine design and construction of Superabrasive machining systems. MAX-TEK machines are built to the highest industry standards with many new features not found on competitive machines in the marketplace.



MAX-TEK provides Superabrasive Machining solutions for difficult to machine materials such as Inconel, Rene, stainless steel and nickel for aerospace and power generation blades, vanes, nozzle guide vanes, shrouds and segments. All machines have substantial machine beds that are constructed of high tensile Meehanite to provide superior rigidity and vibration dampening for high speed superabrasive machining. Fanuc CNC controls are standard, other controls are available. Part programming, wheel design and application of engineered coolant nozzles are included in turnkey packages.



The MAX-TEK STC-300 ATC Superabrasive Turning Center utilizes plated and vitrified CBN grinding wheels for fast efficient and economical material removal. Heavy stock removal in difficult to machine materials with interrupted geometry is the key factor in the success of the MAX-TEK Superabrasive Turning Centers. The STC-300 ATC offers an eight position automatic wheel changer for use with plated, vitrified and conventional grinding wheels. Multiple grinding operations requiring several wheel shapes and finishing characteristics can be performed in a single setup. Wheel dressing is available for profile dressing of wheel shapes. Three and four axis machining capability is also available with the STC-300 ATC.



The MAX-510 and MAX-710 Superabrasive Machines are basic building block machines and have travels of 510MM and 710MM. The machines can be configured for 3, 4, or 5 axis machining and come standard with a 35 HP, 12,000 RPM spindle with HSK-63,80 and 100 spindle nose. Increased horsepower spindles and wheel dressers are optional.



The HGC Series Horizontal Grinding Centers are available in 500MM to 800MM (pallet size) and in various axes configurations including 3, 4, and 5 axes including rotary trunnion tables. The Grinding Centers are equipped with shielded linear guide ways, and fully automatic pallet, tool and nozzle changers. Direct drive 12,000 RPM, 35 to 100HP, HSK-100 spindles with chillers are available. Table dressers or a rotary indexer mounting up to four dressing stations is optional. Milling, drilling and tapping capabilities are also standard items.



MAX-TEK machines are built to the highest industry standards with many features not found on competitive machines in the marketplace. Get the MAX for your investment, select MAX-TEK Superabrasive Machines.



For more information contact:

Ed Elie

MAX-TEK LLC

40 Progress Circle

Newington, CT 06111

Phone 860-372-4900

sales@max-tekllc.com

www.max-tekllc.com

Related