SunPower Releases A-Series and Maxeon 3 Solar Panels to Deliver 60 Percent More Energy in The Same Amount of Roof Space
Press Release Summary: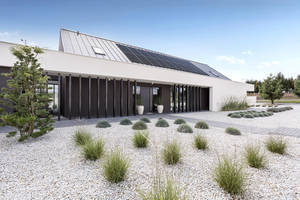 A-Series is ideal for use with SunPower's Equinox™ platform
Built with fifth-generation Maxeon solar cells which were perfected at the company's Silicon Valley Research Facility
Maxeon 3 panel delivers 400 watts of power from its third-generation Maxeon solar cells
---
Original Press Release:
SunPower Launches Industry's First 400-Plus-Watt Home Solar Panels, The Most Powerful Residential Solar Panels in The World
The Highly-Anticipated Next Generation Technology Solar Panel, Newly Named A-Series, is Now Available at 400 and 415 Watts for Homeowners in America
San Jose, Calif., March 5, 2019 /PRNewswire/ -- SunPower (NASDAQ:SPWR) has once again raised the bar by introducing the highest-power solar panels available today for the residential market. In the United States, the company has launched its Next Generation Technology home solar panel called A-Series, delivering 400 and 415 watts of power. In Europe and Australia, homeowners can also now order a 400-watt solar panel from SunPower called Maxeon® 3. Each is the first home solar panel to deliver more than 400 watts in its region and is designed to deliver 60 percent more energy in the same amount of roof space over the first 25 years compared to conventional solar.
"SunPower is introducing the world's first 400-watt residential solar panels as most in the industry are just crossing the 300-watt threshold for home solar," said Jeff Waters, CEO of the SunPower Technologies business unit. "Our record-breaking cell technology and innovative research and development efforts have enabled us to fit more power capacity on rooftops than we ever have before. Our growing panel portfolio is delivering unprecedented value across global markets that goes unmatched by any other residential solar technology currently available."
A-Series Solar Panel Engineered from SunPower's Next Generation Technology
SunPower is well known for its patented Maxeon solar cells built on a solid copper foundation for high reliability and performance. They make SunPower® solar panels virtually impervious to the corrosion and cracking that typically cause conventional panels to break down. In fact, SunPower solar panels are shown to have the lowest degradation rate in the industry.
A-Series panels are built with SunPower's fifth-generation Maxeon solar cells, called Gen 5, which were perfected at the company's Silicon Valley Research Facility. This breakthrough Next Generation Technology required new materials, tools and processes, and resulted in a 65 percent larger cell than previous generations that absorbs more sunlight and ultimately offers more savings to homeowners.
Combined with Maxeon Gen 5 solar cells is one of the industry's highest-powered, factory-integrated microinverter, making A-Series ideal for use with SunPower's Equinox™ platform: the only fully integrated residential solution designed, engineered and warranted by one manufacturer.
Delivering up to 415 watts of electricity, A-Series is the most powerful solar panel that customers in America can buy for their home today.
Maxeon 3 is Most Powerful Home Solar Panel in Europe and Australia
SunPower also broke the 400-watt, residential solar panel barrier for homeowners in Europe and Australia with the company's new Maxeon 3 panel which delivers 400 watts of power from its third-generation Maxeon solar cells. In SunPower's core international distributed generation markets – which include Europe and Australia –  the company is a leading solar provider, increasing volume at a compound annual growth rate of more than 60 percent since 2016. SunPower has had particular success in Europe, doubling its market share.
A Robust Solar Panel Portfolio
A-Series and Maxeon 3 join SunPower's robust residential and commercial solar panel portfolio that includes Performance Series panels. These expanded options provide SunPower's extensive dealer network with a range of power and efficiencies to suit specific customer needs. All SunPower panels are backed by its industry-leading 25-year Combined Power and Product Warranty.
"SunPower solar panels are designed to maximize power production and energy savings for our customers, and we're only scratching the surface of what's possible in home solar," Waters continued. "With our innovative solar solutions and services, and our established channels to market, SunPower will continue building on its strong leadership position in distributed generation around the world."
More than 10.3 gigawatts of the company's high-reliability solar technology are installed to date at residential, commercial and utility-scale projects globally. Collectively, these SunPower® systems are expected to produce approximately 470 billion kilowatt hours of solar electricity over their first 25 years, offsetting carbon emissions from approximately 30 million tons of coal burned.
To learn more about A-Series, visit www.sunpower.com/nextgentechnology or our latest blog post here.
For those interested in Maxeon 3, visit www.sunpowercorp.co.uk/maxeon.
About SunPower
As one of the world's most innovative and sustainable energy companies, SunPower (NASDAQ:SPWR) provides a diverse group of customers with complete solar solutions and services. Residential customers, businesses, governments, schools and utilities around the globe rely on SunPower's more than 30 years of proven experience. From the first flip of the switch, SunPower delivers maximum value and superb performance throughout the long life of every solar system. Headquartered in Silicon Valley, SunPower has dedicated, customer-focused employees in Africa, Asia, Australia, Europe, and North and South America. For more information about how SunPower is changing the way our world is powered, visit www.sunpower.com.
© 2019 SunPower Corporation. All Rights Reserved. SUNPOWER, the SUNPOWER logo, EQUINOX, and MAXEON are trademarks or registered trademarks of SunPower Corporation in the U.S. and other countries as well.
Source SunPower Corp.
Contact:
Amy Smith, SunPower Corporate Communications, amy.smith@SunPower.com, 408-457-2718
Web Site: http://www.sunpowercorp.com
More from Thermal & Heating Equipment