SunLED Presents XZxx168W Series Dome Lens LED with 25 Degree Viewing Angle
Press Release Summary: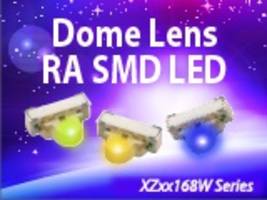 Available in 1.8 mm x 0.6 mm x 1.5 mm size SMD package
Used in light pipe, consumer electronics, home automation and instrumentation applications
Provides 20 mA current operation and moisture intensity level of 3
---
Original Press Release:
SunLED Provides a New Solution to Dome Lens LED Applications - XZxx168W Series
SunLED provides a new solution to dome lens LED applications offering more flexibility in the design industry. The new series measures in at 1.8mm x 0.6mm x 1.5mm. With the introduction of this series, we offer an industry leading option of focused intensity in a 25° degree viewing angle for brighter illumination in the desired region. In this product line, we are able to achieve up to 15 times increased intensity over traditional right angle LEDs.
Narrower angles come with the benefit of eliminating light bleeding which further increases design appeal. This series is especially suited for light pipe applications due to a lower angle of incidence. Light rays can be reflected more efficiently and a brighter illuminated region results in stronger backlight and a more defined user interface. A full color spectrum is available for a wide range of applications.
Product Features
Dome lens right angle SMD in a 1.8mm x 0.6mm x 1.5mm compact package
Up to 1,500% increase intensity over traditional right angle LEDs
Moisture sensitivity level (MSL): 3
Low current: 20mA operation
Narrow viewing angle: 25°
Product Applications
Mobile devices and handheld products
About SunLED
SunLED is one of the world's leading manufacturers of optoelectronic components. The company offers an extensive line of LED Lamps, Surface Mount LEDs, and LED Displays that are RoHS and REACH compliant. Manufacturing with state of the art equipment, SunLED supports high profile customers with production capabilities exceeding 350 million LEDs per month. The company has an unwavering commitment to service and quality for supporting engineering requirements, while assisting with the next advancements in electronic innovations.
Contact:
SunLED Company, LLC
+1-909-594-6000
E-mail:
Web site:
More from Controls & Controllers