Sumitomo's Introduces High Performance Tooling Lineups at IMTS 2010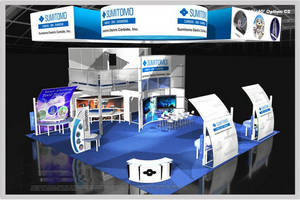 Mount Prospect, IL - Sumitomo Electric Carbide, Inc. is proud to announce their high performance tooling lineups at IMTS 2010. This September, Sumitomo will introduce a number of new and exciting products at the international trade show held in Chicago, IL at McCormick Place.

While visiting the Sumitomo booth (W-2422), customers will get a peek at Sumitomo's high performance turning lineup anchored by the new AC810P, AC820P, and AC830P steel turning grades. AC810P leads off the group as a high speed finishing grade that excels in steels and stainless steels. Following AC810P is the general purpose workhorse AC820P that combines optimum wear resistance and toughness in a single grade. Lastly, the final member of the AC800P series, AC830P, exhibits a tough substrate that provides superior durability in heavy feed and interrupted applications.

Sumitomo's high performance drilling lineup marks the introduction of the global standard in solid carbide drilling to the metalcutting industry. The GS Series solid carbide drill employs a new DEX Coating(TM) that allows customers to increase speeds up to 30% faster while increasing their tool life. With a wider flute geometry, the GS Series drill provides excellent chip control when machining nearly all types of materials. Adding to the powerful drilling lineup, Sumitomo's SMD replaceable carbide tip drill offers versatility to customers by allowing multiple diameters to fit a single drill body. With DEX CoatedTM diameters ranging from 0.4688" - 1.2008", for use with 3XD, 5XD and 8XD bodies the SMD is a cost effective player in the drilling arena. Another recent acquisition to the drilling lineup is the WDX indexable drill. The WDX drills, turns, and bores a variety of materials using the same insert for both the inner and outer cutting edges. With diameters up to 2.125" in 2XD, 3XD and 4XD bodies, the WDX is #1 among the competition.

As a world leader in the production of CBN and PCD materials, Sumitomo's prestigious CBN and PCD lineup is unmatched in the cutting tool industry. Along with the popular BNC SeriesTM coated CBN grades, Sumitomo introduces the uncoated BN2000 as its newest weapon when machining hardened steels. BN2000 provides excellent tool life in 50HRc and above hardened steel continuous and interrupted applications. Along with the BN2000, Sumitomo introduces the uncoated BN7500 for powdered metal part machining. The BN7500's fine CBN particle size provides consistent cutting edge integrity which minimizes the creation of burrs and leaves excellent surface finishes on powdered metal parts.

Sumitomo's high performance milling lineup is highlighted by the new Sumitomo Goal Mill and the DNX Milling Cutter Series. The Goal Mill is a near 90º high productivity milling cutter designed to machine cast iron parts where surface finish and accuracy are a must. The Goal Mill provides excellent surface finishes by using tangentially mounted inserts accompanied by easily adjustable axially mounted wiper inserts. Each insert offers 8 indexes when using single handed cutters, and 12 when employing both right and left hand cutters. The DNX Series is a 25º lead angle general purpose milling cutter that machines cast iron parts as well as steel parts. By employing a negative, square-shaped insert with a molded wiper flat, the DNX provides up to 8 indexes. With diameters ranging from 3" to 8" cutters in both coarse and fine pitch styles, the DNX is sure to hit a homerun with your milling applications.

Customers can see and hear these products at the Sumitomo booth during hourly new product presentations. At the conclusion of each high performance tooling lineup presentation, a lucky attendee will receive a pair of Chicago White SoxTM tickets for that evening's game! So you can watch Sumitomo's hard hitting lineup during the day, and see the Chicago White Sox's lineup that night!

Along with the Sumitomo tooling lineup, an all-star lineup of Sumitomo metalworking professionals will be on hand at the Sumitomo booth to assist customers with their machining needs and questions. To make an appointment with a member of the booth staff, contact the Sumitomo marketing group at IMTS2010@sumicarbide.com.


More from Electrical Equipment & Systems