Sulfur Analyzer helps improve refinery efficiency.
Press Release Summary: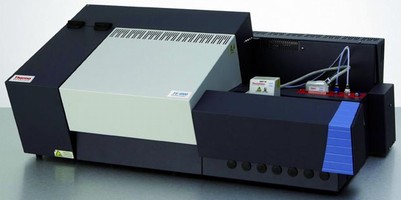 Total Sulfur (TS) 4000 incorporates True Total Sulfur (TTS) technology, which removes nitrogen interference in order to provide accurate results and can determine trace level sulfur in Cetane Improver. Suited for range of refinery and petroleum sample types with high nitrogen concentration, analyzer is configured with UV-F detection system and is capable of detecting sulfur in liquids, solids, and gas samples. NeXYZ liquid autosampler is also included.
---
Original Press Release:

Thermo Fisher Scientific Launches New Total Sulfur Analyzer Providing Accurate Sulfur Analyses for Improved Refinery Efficiency



DELFT, Netherlands (November 20, 2007) - Thermo Fisher Scientific Inc., the world leader in serving science, announces the launch of a new Total Sulfur (TS) analyzer, the Thermo Scientific TS 4000. Further expanding on the TS 3000 routine analyzer, the TS 4000 incorporates the patent pending Thermo Scientific True Total Sulfur (TTS) technology, removing nitrogen interference thus providing true total sulfur results. This novel TTS technology is capable of determining trace level sulfur in Cetane Improver, offering high productivity performance allowing for accurate and precise analysis of sulfur levels in automotive fuels. The unique versatility, robustness and sensitivity of the analyzer make it ideally suited for a range of refinery and petroleum sample types with a high nitrogen concentration.

The unique TTS technology has been developed by researchers at Thermo Fisher in response to new regulations including the ASTM D5453 methodology implemented by the United States Environmental Protection Agency (EPA). These regulations dictate strict limitations on the sulfur content levels in automotive fuels. Ultra-low sulfur diesels are already in use across much of Europe and Asia, and are expected to become a viable alternative to mainstream fuels by 2010.

Traditionally, combustion and Ultra Violet Fluorescence (UV-F) have been used for accurate analysis of sulfur in motor fuels. However, even an optimized detector may identify nitrogen as nitrogen oxide, which emits at the same wavelength as sulfur dioxide, resulting in inaccurate analysis. Low Cetane ultra low sulfur diesel fuel is usually spiked with Cetane Improver (2-EHN) to boost the Cetane number. When analyzing sulfur in fuel oil using UV-F detection technique this 2-EHN component can cause inaccurate detection of higher sulfur content than truly exists, and consequently has a cost impact when it comes to refinery operation planning.

The novel TTS technology defines the amount of nitric oxide (NO) added to the sample in the furnace, inhibiting the formation of SO3, which cannot be detected using UV-F. This results in higher yield combustion of sulphur dioxide (SO2), which can then be detected using UV-F. Featuring the TTS technology, and configured with a UV-F detection system, the Thermo Scientific TS 4000 analyzer is capable of detecting sulfur at extremely low levels in liquids solids and gas samples.

The Thermo Scientific NeXYZ liquid autosampler is supplied as standard with all TS 4000 analyzers. The NeXYZ Autosampler offers quick and easy automatic sample introduction. It is the first universal autosampler that can be used for solids, as well as direct and indirect injection of small volume hydrocarbons.

For further information on the Thermo Scientific TTS 4000 analyzer, please visit www.thermo.com/elemental, please call +1 800-532-4752 or alternatively, please email analyze@thermofisher.com

Thermo Scientific is part of Thermo Fisher Scientific, the world leader in serving science.

About Thermo Fisher Scientific
Thermo Fisher Scientific Inc. (NYSE: TMO) is the world leader in serving science, enabling our customers to make the world healthier, cleaner and safer. With an annual revenue rate of more than $9 billion, we employ 30,000 people and serve over 350,000 customers within pharmaceutical and biotech companies, hospitals and clinical diagnostic labs, universities, research institutions and government agencies, as well as environmental and industrial process control settings. Serving customers through two premier brands, Thermo Scientific and Fisher Scientific, we help solve analytical challenges from routine testing to complex research and discovery. Thermo Scientific offers customers a complete range of high-end analytical instruments as well as laboratory equipment, software, services, consumables and reagents to enable integrated laboratory workflow solutions. Fisher Scientific provides a complete portfolio of laboratory equipment, chemicals, supplies and services used in healthcare, scientific research, safety and education. Together, we offer the most convenient purchasing options to customers and continuously advance our technologies to accelerate the pace of scientific discovery, enhance value for customers and fuel growth for shareholders and employees alike. Visit www.thermofisher.com.

More from Fluid & Gas Flow Equipment