Suction Cups and Vacuum Ejectors suit basic applications.
Press Release Summary: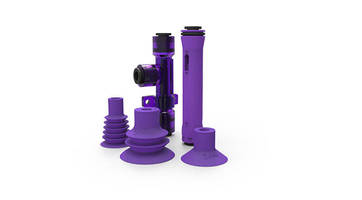 Comprising 21 suction cups and 2 small vacuum ejectors, Value Line is suitable for applications where machine speeds and surfaces to be gripped are less challenging. Suction cups, made of TPE-U material for wear resistance, come in flat-concave, bellows, and long bellows shapes with diameters from 0.79–2.95 in. Inline vacuum ejectors can be installed directly on hose very close to point of vacuum and are suitable for applications with vacuum levels of 20–50%.
---
Original Press Release:

Vacuum Products at a Value Price



Hingham, MA – Piab, the world leaders in vacuum ejector technology, introduces a new line of products called Value Line.  This competitively priced line consists of 21 suction cups in three different shapes as well as two small lightweight vacuum ejectors.



This product line is ideal for more basic applications, where machine speeds and surfaces to be gripped are less challenging, such as with case/carton erectors. Other examples are equipment for loading/unloading or sorting sheets into metal forming machines (laser cutting, water jet, punching etc.) and parts removal from injection molds.



The suction cups are available in flat-concave, bellows and long bellows shapes with diameters from 20-75 mm [0.79-2.95".  The durable TPE-U material provides good wear resistance.  For mounting, all cups have a long neck and can be pushed on directly to a pipe or can be mounted with an optional brass threaded fitting.  Discounted pricing is available for big pack orders of cups.



The small and lightweight vacuum ejectors can be installed directly on the hose very close to the point of vacuum.  This feature provides the benefit of faster evacuation times to keep up with higher cycling machine speeds.  The inline vacuum ejectors are also suitable for cleanroom environments and are ideal for applications in the range of 20-50% vacuum levels.



All products are available globally with "off-the-shelf" delivery.



About Piab

Established in 1951, Piab designs innovative vacuum solutions that improve the energy-efficiency, productivity, and working environments of vacuum users around the world. As a reliable partner to many of the world's largest manufacturers, Piab develops and manufactures a complete line of vacuum pumps, vacuum accessories, vacuum conveyors and suction cups for a variety of automated material handling and factory automation processes. Piab utilizes COAX®, a completely new dimension in vacuum technology, in many of its original products and solutions. COAX® cartridges are smaller, more energy efficient and more reliable than conventional ejectors, and can be integrated directly into machinery. This allows for the design of a flexible, modular vacuum system. Piab is a worldwide organization with subsidiaries and distributors in almost 70 countries. Its headquarters are in Sweden. For more information about Piab vacuum solutions for a diverse range of applications, visit www.piab.com.



Mike Tuohey

Sales & Marketing Communications Manager

Phone: +1 800 321 7422/+1 781 682 1416

Fax: +1 781 337 6864

E-mail: mike.tuohey@piab.com

Skype: miktuo1

Address:   65 Sharp Street, Hingham, MA 02043 US

Web: www.piab.com

More from Material Handling & Storage