Subminiature Rotary Switches feature 9.2 mm body diameter.
Press Release Summary: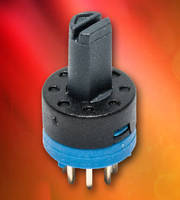 Available as single-pole switches with 2–8 positions and positive detents that provide tactile feedback, RM Series is suited for building automation, lighting controls, telecom, and audio equipment. Gold-plated contacts provide operating lifespans of 2,000 cycles, with operating force of 270+/-100 gf cm. Contacts are rated for 0.5 A at 24 Vdc and 0.2 A at 48 Vdc, with insulation resistance of 100 MΩ at 500 Vdc, and dielectric strength of 500 Vac for 1 minute.
---
Original Press Release:

C&K Develops Smallest Subminiature Rotary Switch Series



Economical RM Series rotary switches deliver 50% reduction in board space for building automation, lighting controls, telecom, & audio equipment



NEWTON, MA — C&K Components, a leading global manufacturer of electromechanical switches, has released its smallest diameter rotary switch series, providing design engineers with a switch option that reduces board space by 50%. Available with two to eight positions, the new RM Series single-pole rotary switches feature an ultra-miniature 9.2mm body diameter and gold-plated contacts for reliable operation.



Ideal for use in next-generation building automation systems, including lighting and fan controls, test and measurement equipment, and telecommunication and radio systems, the new RM Series rotary switches deliver economical subminiature solutions for applications that require reliable multiple-position switches with positive detents that provide tactile feedback.



"The new RM Series switches have the smallest footprint of any rotary switch we've ever made available," said Paul DiLorenzo, Global Product Manager at C&K Components. "In addition to the compact dimensions, this series also delivers the lowest cost rotary switch solution for applications that require reliable multi-position switching." 



Available as a single-pole rotary switch with two to eight positions, the new, space-saving RM Series switches are equipped with either an extended shaft with one of two standard knob options, or a flush actuator with a screwdriver slot for adjustment. Gold-plated contacts provide reliable switch operating lifespans of 2,000 cycles, with operating force of 270+/-100gf cm. RM Series contacts are rated for 0.5A at 24VDC and 0.2A at 48VDC, with insulation resistance of 100MΩ at 500VDC, and dielectric strength of 500VAC for one minute. Operating temperature for the series spans -40°C to 85°C, and RM Series switches also feature insert molded terminals to prevent contamination during soldering.



RM Series switches are available from C&K's extensive global sales and distribution network. Samples are available immediately, and production volumes are available with four-week lead times.



For more information about C&K's new RM Series subminiature rotary switches, please visit http://www.ck-components.com/products/switches/product-details/Rotary/RM. For all other inquiries, please visit http://www.ck-components.com, or call 617-969-3700.



About C&K Components  

C&K Components is a leader in interface and switch technology, as well as smart card and high reliability connector products. C&K Components offers more than 55,000 unique part numbers that are built, priced, and delivered as standard catalog items. www.ck-components.com   



For more information, contact:

Allison Turner

C&K Components

617-969-3700

allison.turner@ck-components.com

More from Machinery & Machining Tools