Subminiature Detect Switches feature through-hole design.
Press Release Summary: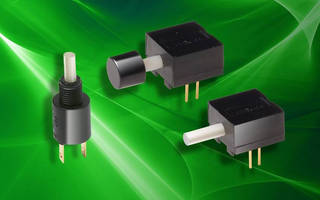 Available with pretravel and overtravel, KM1202 switches offer min electrical life of 10,000 actuations at full load. They feature gold- or silver-plated contacts, with max contact rating of 0.4 A at 20 Vac/dc or 0.25 A at 125 Vac/dc, respectively. Max contact resistance is 30 mW at 2-4 Vdc for both silver- and gold-plated contacts, and min dielectric strength is 1,000 Vrms. Operating at temperatures from -30 to +85°C, RoHS compliant switches feature total travel of 5.84 mm.
---
Original Press Release:

C&K Develops Subminiature Detect Switch with Reliable Contact Design



NEWTON, MA - C&K Components, a leading international supplier of tact switches, toggle, rocker and pushbutton switches, and smart card interconnect devices, has developed a new series of through-hole subminiature detect switches. Available with pretravel and overtravel, the KM1202 features a highly reliable contact design with a minimum electrical life of 10,000 actuations at full load.

"The KM1202 switches feature a reliable SPDT contact design with overtravel making this switch perfect for enclosures," said David Webber, director of product management for C&K Components. "The subminiature size along with the reliable contact design make the KM Series detects ideal for use in enclosures, server blades, alarm systems, computers, and other detector switch applications."

The KM Series detect switches are available with gold- or silver-plated contacts. Maximum contact rating for the gold-plated switches is 0.4A @ 20V AC or DC, while the silver-plated devices feature a contact rating of 0.25A @125V AC or DC. Maximum contact resistance is 30mΩ @ 2 to 4V DC for both the silver- and gold-plated contacts, and minimum dielectric strength is 1,000Vrms. Operating temperature ranges from -30°C and +85°C. The RoHS compliant and compatible KM Series detect switches feature a pretravel measurement of 4.06mm. Total travel is 5.84mm.

Typical pricing for the KM Series subminiature detect switches ranges from $1.50 to $2.20 each in quantities of 2,500 pieces. Lead time is from 5 to 7 weeks.

About C&K Components

C&K Components is a division of CoActive Technologies, a privately held company manufacturing electromechanical switches, interface controls, keypads, dome arrays and modules. www.ck-components.com

URL: www.ck-components.com/km/detect,55550,en.html