Submersible Pump pushes water over 17 ft straight up.
Press Release Summary: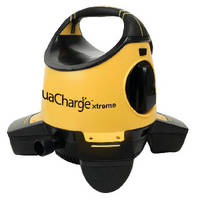 Measuring 9.5 in. H x 10.5 in. W, AquaCharge™ Xtreme features yellow and black ABS plastic jacket and is fully submersible to 6 ft. Unit has On/Off control knob and removable strainer that enables trouble-free cleaning of pump once water has been moved away. Powered by rechargeable NiMH battery, cordless pump can move up to 600 gallons of fresh or salt water on single charge. Unit connects to standard garden hose to pump water from hot tubs, pool covers, basements, or boats at up to 500 gpm.
---
Original Press Release:
NEW AquaCharge(TM) Xtreme Portable Pump Packs a Punch
Rule's® submersible pump pushes water over 17 feet straight up

Beverly, MA, – Rule®, a Xylem brand, announces the new AquaCharge™ Xtreme, a fully submersible, compact, portable pump with the muscle to move water over 17 feet straight up from basement to second story, from bilge to deck, and more.

Water is heavy, weighing in at eight pounds per gallon, which means AquaCharge™ Xtreme makes tough water moving chores, like draining a hot tub or flooded basement, much easier.

"We built a pump that packs a punch and is safe to use in nearly any situation," said Jeff Schopperle, product manager at Xylem. "AquaCharge™ Xtreme is ideal for the do-it-yourself homeowner, the professional plumber or boating enthusiast, anyone who needs to get a lot of water out quickly," added Schopperle.

Fully submersible to six feet and measuring 9.5 inches high by 10.5 inches wide, AquaCharge™ Xtreme arrives in a sleek, tough, bright yellow and black ABS plastic jacket. It features an easy "On/Off" control knob and a removable strainer that makes for trouble-free cleaning of the pump once water has been moved away. And with its powerful and rechargeable NiMH battery, the cordless AquaCharge™ Xtreme can move up to 600 gallons of fresh or salt water on a single charge.

AquaCharge™ Xtreme connects easily to any standard garden hose, and its innovative water handling technology is a perfect match for pumping water at the rate of up to 500 gallons per hour from hot tubs, pool covers, basements, boats, sinks or anywhere water needs to be removed.

AquaCharge™ Xtreme is a top performer when it comes to safety as well. Its rechargeable battery takes away the need to use electric power when removing water from a wet and potentially hazardous environment. It's truly portable so there's no more plugging in an extension cord and finding it's too short to reach from pump to power source either. AquaCharge™ Xtreme can even function as a sump pump when the power goes out, and it really delivers in just about any marine situation where fast pumping power is a must.

The new AquaCharge™ Xtreme is backed by the Rule® brand of DC pumps, a brand enjoying over 45 years of operational excellence with over 15 million units in use in harsh environments.

To learn more and see the AquaCharge Xtreme firsthand, visit Booth 3428 at the Atlantic City Pool & Spa Show, January 28-31, 2013 at the Atlantic City Convention Center. Additional information can be found at http://www.xylemflowcontrol.com/rule/.

About Xylem
Xylem (XYL) is a leading global water technology provider, enabling customers to transport, treat, test and efficiently use water in public utility, residential and commercial building services, industrial and agricultural settings. The company does business in more than 150 countries through a number of market-leading product brands, and its people bring broad applications expertise with a strong focus on finding local solutions to the world's most challenging water and wastewater problems. Launched in 2011 from the spinoff of the water-related businesses of ITT Corporation, Xylem is headquartered in White Plains, N.Y., with 2011 revenues of $3.8 billion and 12,500 employees worldwide. In 2012, Xylem was named to the Dow Jones Sustainability World Index for advancing sustainable business practices and solutions worldwide.

The name Xylem is derived from classical Greek and is the tissue that transports water in plants, highlighting the engineering efficiency of our water-centric business by linking it with the best water transportation of all -- that which occurs in nature. For more information, please visit us at www.xyleminc.com .
More from Electronic Components & Devices