Submerged Ultrafiltration Membranes target MBR facilities.
Press Release Summary: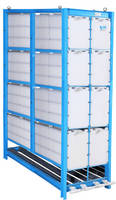 Intended for wastewater treatment and recycle applications, EnviQ™ Series optimizes operation and maintenance of Membrane Bioreactor facilities. Design offers ultrafiltration quality product water with rugged PVDF flat sheet membrane. Reverse diffusion and specially designed air diffusers maximize scrubbing efficiency. Available in E-8C, 16C, and 32C configurations, membranes offer surface area of 80, 160, and 320 m², respectively.
---
Original Press Release:

QUA® Introduces EnviQ(TM) Submerged Ultrafiltration Membranes at AWWA/AMTA Membrane Technology Conference



PITTSBURGH, – QUA®, an innovator of advance membrane technologies, introduces EnviQ™ submerged ultrafiltration membranes for wastewater treatment and recycle applications as part of the Membrane Bioreactor (MBR) process. EnviQ will be featured at QUA's booth #318 at the AWWA/AMTA Membrane Technology Conference on March 10-14 in Las Vegas.



QUA's EnviQ membranes have been specially developed to improve the ease of operation and maintenance of MBR facilities. EnviQ's innovative design offers ultrafiltration quality product water with a stronger and more rugged PVDF flat sheet membrane. EnviQ's unique features such as reverse diffusion and specially designed air diffusers maximize scrubbing efficiency resulting in reduced cleaning.



Additionally, EnviQ significantly lowers the total installed cost of biological wastewater treatment and recycle systems as compared to conventional activated sludge processes with tertiary filtration.



EnviQ is currently offered in three configurations: E-8C, 16C and 32C, each having surface area of 80, 160 and 320 m(2), respectively. 



EnviQ is the latest innovation from QUA, which in the past year also introduced CeraQ® ceramic membranes as well as MEGA FEDI and FEDI-Rx products for heavy industrial and pharmaceutical industry applications.



QUA's products are available globally, with installations at numerous sites in the USA, Europe and Asia. The company is the recipient of a Frost & Sullivan New Product Innovation Award for Industrial Water & Wastewater Treatment Technology, North America, for both its FEDI® Fractional Electrodeionization and Q-SEP® Hollow Fiber Ultrafiltration Modules.



About QUA

Headquartered in the USA, QUA (www.quagroup.com) is an innovator of advanced membrane technologies that address the most demanding water challenges. The company's diverse product portfolio includes electrodeionization, ceramic and polymeric ultrafiltration, and submerged membranes for wastewater applications. QUA's products enable its OEM partners to provide cutting-edge solutions to end users in industrial and infrastructure markets worldwide.



Contact:

Ann Seamonds

+1-978-887-9959

+1-978-764-5528 (mobile)

Related