Sublimation Printed Custom Bags Sets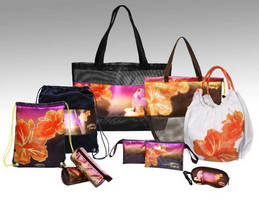 LBU Incorporated is the leader in designing and manufacturing custom bags and carrying cases. For innovative ideas and the fastest turnaround time in the industry, rely on LBU Incorporated. Bring us your ideas, and our in-house design studio will create a finished sample for you...then produce your order in our state of the art manufacturing and printing facilities. We have more than 2-hundred sewers (soh-erz) available to get your job done quickly and on time. If you need special sizes, colors, or designs.....no problem! If you can imagine it, we can make it! Quality products, knowledgeable staff, and great customer service - you'll find it all at LBU Incorporated. Now featuring custom bag sets introducing sublimation printing on all style bags & totes for custom coordinating look & branding for your product packaging.

Now at LBU Incorporated, you can get photographic quality printing in full color on any bag style with our newest service - full dye sublimation. There is no limit to the bag styles as you can see pictured here. Custom sublimated printed bags, carryalls and totes can be coordinated to create a packaging ensemble that can reach out to any industry with logos, messages for your projects. Whether it's cosmetic, liquor & beverage, food, retail, entertainment or sports industries. Large carryall totes in combination materials, mesh, neoprene, canvas, and nylon. We also carry environmental materials, "Go-Green". Zipper, Velcro, drawstring, or handle styles all accomadate your packaging needs for the most dynamic product showcase. We have over one thousand types of fabrics and materials available, including canvas, nylon, mesh, vinyl, and hundreds of specialty fabrics to choose from. Our talented design team can help you bring your ideas to life by creating free virtual samples within hours and real custom-built samples within 24 hours. Our entire team has a.... "do whatever it takes" mentality. We'll show you what we mean when we return to the line.

What's your need for speed? Find whatever you're looking for at our website LBUINCcom We're a five star rated supplier, and with over 2-hundred sewers (soh-erz) in New Jersey and over 1-thousand in China, we truly are your "One Stop" source for ALL your custom and stock.... "bag" needs! LBU offers a full line of environmentally sound fabrics, including recycled and organic canvas, hemp, and non-wovens. We have over 1-thousand different styles of bags ready for next day delivery. That's why we say, "When you do business with LBU.........., success is in the bag!"

Our facility includes sewing contract manufacturing from our domestic facility as well as sewing contractors in our overseas plant. Packaging bags are not the only items produced by LBU... with production teams on both sides of the globe we can produce any items with a "if you can sew it, we can know it" approach. Call us at 800-678-4528 or visit us online at www.lbuinc.com.

More from Agricultural & Farming Products