Strobe Light facilitates wide-web surface inspection.
Press Release Summary: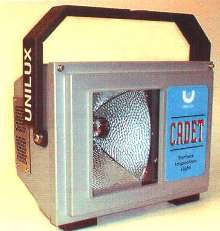 Cadet enables inspectors to see surface defects and imperfections in real time and fills need for slitters with tandem rewinds located 2-3 ft from light source. It features self-contained electronics and 200 W Xenon snap-in lamp, which covers webs up to 40 in. wide. Light head has air-intake filters and quick-release, adjustable yoke with alignment scale. Unit syncs to line speed by 0-10 Vdc, 4-20 mA proportional input or rotary encoder.
---
Original Press Release:

Unilux Introduces Cadet at CMM 2003 to Enhance Wide-Web Inspection Capability


SADDLE BROOK, NJ March 28, 2003 - When size matters, Unilux (www.unilux.com) has the capability for wide-web converting and labeling inspection. The company will introduce the Cadet surface inspection strobe light at CMM 2003, April 14 to 17, McCormick Place, Chicago. The new light is designed to fill a need between the focusing capability of the Lith-O-Light
(LOL) 40 and the power of the HD 851 strobe light, both universal in the printing and converting industries. The company also will feature its Sentry, a second-generation product designed specifically for heavy-duty industrial use. Unilux will be in Booth 1846.

"The Cadet fills a key need for slitters with tandem rewinds located two to three feet from the light source," said Mike Simonis, vice president of international sales, Unilux. "Many printers and converters have used the LOL-40 for their wide slitters and to backlight films on their converting lines. One problem has been that they have to mount the light less than 18 inches from the inspection point, and sometimes it doesn't illuminate the lower rolls as well as they would like. The other problem is that while the HD 851 provides the power to illuminate both rolls, its larger size and wider throw sometimes makes it more difficult to mount, and it illuminates a larger area than needed.

"The Cadet solves both problems," he continued. "First, its smaller profile (half that of the HD851) makes mounting very easy in tight spaces. Second, the Cadet places four times more
light than the LOL-40 on the inspection point from three feet away because of its increased power and revolutionary reflector design. This combination of power and reflector design will enable it to cover webs up to 40 inches wide."

Like the HD 851 on which it is based, the Cadet's electronics and lamp are self-contained for easy maintenance and replacement of power modules and lamps. Long-life Xenon gas snap-in lamps require no tools, gloves or wires for changing. The Cadet's 200-Watt output is concentrated on the inspection surface, quadruple the LOL-40's foot-candle output from twice the distance. Because it is interconnectable with other Cadets, users can inspect wider areas - even in tight spaces - and operate them from a single remote.

The Sentry provides 35 percent more light than its predecessor, the Unilux 850 C, with a 25 percent smaller footprint. The Sentry's redesigned reflector system enables it to illuminate strips up to 1.5 meters wide, and it features three control options, including two remote systems.

"The Sentry takes several steps forward in key areas that are important to our customers," Simonis said. "In addition to being brighter and more compact, it has all the warning tools, including service indication lights that help operators identify problems quickly and accurately - just as the light helps them find and identify surface defects quickly and accurately. When synchronized to the process, the light turns on automatically when the line reaches its operating speed, greatly increasing lamp life. Sentry has a two-year warranty on the system exclusive of the lamp."

Sentry units are equipped with a "press to test" button provides an easy system check, and all electronics and wiring are modular. Mechanically, each light head has over-sized air intake filters and a quick-release adjustable light head yoke with an alignment scale. Systems are designed to operate at 100 percent in temperatures up to 120°F (50°C).

Both the Sentry and Cadet sync to line speed by a 0-10VDC, 4-20 mA proportional input or a rotary encoder.

Unilux stroboscopic lighting enables operators and inspectors to see surface defects and imperfections in real time at full production speeds. The light's short-duration, high-intensity
light pulses make webs moving at up to 700m per minute appear motionless. This, in turn, provides "frozen" images that make surface defects stand out for identification and correction.

Unilux Inc., headquartered in Saddle Brook, NJ, has more than 40 years of experience in the design and manufacture of industrial surface inspection lighting systems for the printing/converting, metals and papermaking industries and heavy-duty strobe lighting systems for the film and video industry. Unilux currently has sales representatives in 23 countries in North America, Latin America, Europe, Asia, Australia and Africa along with four service centers. For additional information, contact Unilux, Inc., 59 North Fifth St., Saddle Brook, NJ 07663 USA. Phone: 800-522-0801 (US only) 201-712-1266 (Worldwide) Fax: 201-712-1366 Internet: www.unilux.com.

More from Fasteners & Hardware