Stretch Wrapping System minimizes fork truck involvement.
Press Release Summary: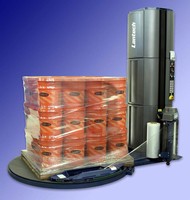 Started via remote lanyard, Q-400XT automatically attaches film to load, wraps it, locks load to pallet with Pallet-Grip® film cable, and cuts film. Simple Automation(TM) eliminates need for fork-truck operator to touch load or machine. Designed to wrap 35-45 pallets up to 80 in. tall per hour, all-electric unit eliminates pneumatics and runs on 115 V power. Other features include Power Roller-Stretch® PLUS film delivery system and 15 rpm turntable with load capacity to 5,000 lb.
---
Original Press Release:

New Q-400 XT Stretch Wrapping System Halves the Cost of Pallet Containment with Simple Automation(TM)



Unique feature package includes XT cut/clamp module, 15-rpm turntable, 5000-lb. load capacity and patented Pallet-Grip® load locking system

Louisville, KY, June 2007 - Lantech's new Q-400XT stretch wrapping system halves the cost and time for pallet wrapping with Simple Automation(TM) that eliminates the need for the fork-truck operator to touch the load or machine. Started with a remote lanyard, the Q-400XT automatically attaches the film to the load, wraps it, locks the load to the pallet with a Pallet-Grip® film cable, and cuts the film. The Q-400XT greatly improves efficiency and ergonomics for fork truck operators, allowing them to simply drive up, position the pallet on the turntable, start the machine with a lanyard switch, and drive away. Designed to wrap 35-45 pallet loads per hour up to 80" tall, the all-electric Q-400XT eliminates pneumatics and runs on 115V power, allowing convenient relocation to suit work flows. The machine will be introduced and demonstrated at Pack Expo Las Vegas 2007.

"Time studies have shown that Simple Automation(TM) doubles the efficiency of fork truck drivers and cuts the cost for pallet wrapping by 50 percent over a standard system, saving $60,000 over the seven-year life of the machine," explained Allison Myers, Lantech Product Manager. "Simple Automation(TM) also reduces fuel consumption, potential product damage during handling, operator exposure to safety hazards, and reduces wear on fork truck equipment. The higher equipment utilization can free up fork trucks for other uses or possibly eliminate some equipment and associated operating costs."

Classed as a compact premium stretch wrapper, the Q-400XT includes a unique package of features, such as a fast 15-rpm turntable, engineered for rugged service with load capacity to 5000 lbs. Lantech's patented Pallet-Grip® load locking system is standard. It enables users to meet the requirements of mass merchandisers who increasingly specify half-height loads wrapped to the pallet, Myers explained. Pallet-Grip® attaches a load to the pallet with bottom wraps of film that have been twisted into a cable along the lower edge of the web. The film cable is wrapped with 50% higher wrap force as it is secured below the deck of the pallet, while the remaining film web stays above the deck to secure the load. The Pallet-Grip® wrap cycle positions the film above the fork entry area, which allows the fork truck to pick up the load without puncturing the bottom wrap of film and compromising load containment.

The Q-400XT's electronically controlled Power Roller-Stretch® PLUS film delivery system, with 250-300% pre-stretch and variable wrap force, ensures consistent, tight loads with economical use of film, reduced labor and improved ergonomics.

The Q-400XT is easy to operate with a membrane touch panel, featuring color-coded functions for quick, clear identification. Options include an electronic scale, loading ramp, extended wrap height to 110", 30-inch film carriage, pit mounting configuration and dozens of others. The entire system is backed by a full three-year, unlimited-cycle, all-component warranty.

Lantech's packaging and productivity solutions include semiautomatic and automatic stretch wrapping; automatic case handling; shrink packaging and pallet-load conveying systems. Lantech is the originator of stretch wrapping technology and the world's largest manufacturer, with 60,000 systems placed around the world. Headquartered in Louisville, Kentucky, with manufacturing operations in the U.S. and Europe, Lantech products are sold and serviced by a network of 175 distributor locations. Visit the company's website at lantech.com for more information.

More from Electrical Equipment & Systems