Stretch Wrap Machine features automated operation.
Press Release Summary: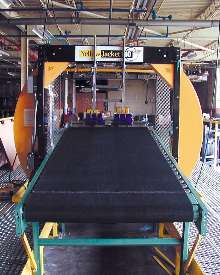 Suited for palleted and non-palleted applications, Yellow Jacket 110® models 87-A, 120-A, and 180-A offer respective wrapping capacities of 87 in., 10 ft, and 15 ft. All models can be matched with appropriate conveyor systems, automated or manual, and are suited for long, narrow products such as tubing or larger products such as building/construction materials. Lock Down Technology wraps around cargo and pallet to secure any load without bands.
---
Original Press Release:

The Fully-Automated Yellow Jacket 110®: For High Volume Production Applications Requiring Stretch Wrapped Shipments Using Automated Operation, Conveyorized Feeding


MARION, IN - Yellow Jacket LLP introduces a fully-automatic stretch wrap machine to secure high volume shipments of bundled loads (suited for most palleted and non-palleted applications) securely, safely and without operator involvement. The system is offered in three different wrapping capacities (the Yellow Jacket 110® Model 87-A, 120-A and the 180-A (87", 10' and 15' models) and can be matched with appropriate conveyor systems (either fully automated or "smaller budget" versions employing manually pushed/pulled conveyor systems with manually operated wrapping systems). Most "stacked/bundled, awaiting shipment" products can be stretch-wrapped, but these automated systems are best suited for long/narrow (IE: tubing) and/or larger products such as building/construction materials, siding, molding, trim, etc., and production lines requiring a high speed wrap process.

The Yellow Jacket 110 stretch wrapping system saves money and time within all types of shipping operations. This can be attributed to reasons such as:

· It wraps loads quickly and without the need for forklift driver/shipping personnel involvement, providing a faster and more ergonomically sound way to ship products...and increased confidence of delivering a more secured load

· It ensures a strong ROI on your investment (IE: reduces worker compensation and damaged product claims, increases overall shipping throughput, eliminates labor costs from this aspect of product shipping, etc.)

· It is simple to operate and is easily repaired/maintained with standard off-the-shelf replacement parts

"Lock Down" Assures Secured Product on Pallet
This automatic machine offers increased confidence and security through the use of its Lock Down Technology which wraps around the cargo and pallet to secure any load without bands. The wrap tension adjusts easily to provide a range of film pre-stretch, which can secure cargo of any dimension or weight and loads of standard, oversized and irregular shapes. The Lock Down Technology assures that loads remain secured during shipment, eliminating any shifting or sliding that could cause costly damage.

Yellow Jacket can help you to design a system to meet your stretch-wrap needs. Typical factors for the development of system design includes various pallet/product sizes that the machine will wrap, line speed output, as well as a host of others. The Yellow Jacket system is also available in manually operated and semi-automated models and each can be completely customized.

The product is easy to use (both technical and non-technical personnel can be trained on machine use and safety in just one hour).

For more information, contact Yellow Jacket LLP, PO Box 1306, 4589 N. Wabash Rd., Marion, IN 46952. Phone: 765-671-7879. Fax: 765-671-7875. Contact Stephanie Traylor (marketing: ext 109; email: straylor@yellowjacket110.com). Visit us on the web at www.yellowjacket110.com.

More from Software