Street Light features self-cleaning glass.
Press Release Summary: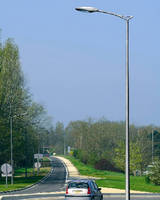 Designed for Philips® CosmoPolis(TM) arc tube lamps, FURYO 3 utilizes multilayer HiR® high-powered reflectors and has die cast aluminum housing that optimizes cooling of electronic ballast, which is protected within IP66-rated compartment. Sealsafe® IP66 optical module, together with self-cleaning lens, optimize energy efficiency and deliver dust/water tightness over long term. FURYO III is compatible with OWLET Intelligent Street and Area Lighting System for dimming streetlights in off-peak times.
---
Original Press Release:

Schreder Introduces FURYO 3 for Street Lighting Applications Featuring Self-Cleaning Glass and Philips CosmoPolis Lamp; Compatible with OWLET Street and Area Lighting System



Chicago--- Designed and engineered as the ultimate tool for providing The Right Light for street lighting applications, Schréder Lighting US General Manager John Camp has announced the introduction of FURYO 3 featuring self cleaning glass and the Philips® CosmoPolis(TM) lamp. From refined, artistic architectural lighting to durable luminaires that withstand the harshest elements of tunnel, DOT, and transit environments, Schréder Lighting is the epitome of quality and distinction.

FURYO 3 is specially equipped with unique, self-cleaning glass, which eliminates external dirt and dust, allowing better-maintained light output over time.

Multi layer HiR® High-powered reflectors offer ultra high performance and are adapted to the light source and the illuminated area. The reflectors feature a high reflection coefficient based on multi layer technology, offering a reduced size that allows for maximum aiming precision and light distribution.

FURYO 3 was specifically designed for the latest generation of arc tube lamps, Philips® CosmoPolis(TM), which sets new standards for low operating costs and high performance outdoor lighting. The compact metal halide lamp and electronic ballast system produces a warm white light that brings color and vibrancy to city nightlife. Streets are safer because drivers and pedestrians see better and can distinguish colors clearly. The CosmoPolis significantly reduces energy bills by 30 to 70 percent compared to other white light sources. The lamp lowers maintenance costs with long, reliable life and low lumen depreciation while greatly reducing CO2 emissions. Superior optical efficiency permits increased spacing between luminaires and lamp dimming allows luminous flux to be adjusted.

The compartmentalized die cast aluminum housing for the FURYO III is designed to optimize the cooling of its electronic ballast, which is energy efficient and protected within an IP66 rated compartment. A Sealsafe® IP66 optical module, together with the self-cleaning lens, guarantee the highest possible energy efficiency and a continued dust and water tightness level over the long term. This is proven by the optical system's 20-year IP66 rating warranty.

FURYO III can be used with Schréder Lighting 's OWLET Intelligent Street and Area Lighting System. Dimming streetlights in off-peak times can save up to 30 percent in energy costs. Utilities need a reliable method of metering an area's streetlights to be able to credit the city for their energy savings. OWLET's onboard Metering Chipset monitors and reports power usage with a plus-2 or minus-2 percent accuracy, which is acceptable to most utilities.

OWLET is a telemanagement system for monitoring, controlling, metering and managing outdoor lighting for major roadways, city streets, college and corporate campuses, and other larger public lighting applications. Based on open technologies, OWLET saves energy, reduces greenhouse gas emissions, improves outdoor lighting reliability and security, and lowers the maintenance costs with a short payback period. Each individual light point can be switched on or off, or dimmed at any time. Operating status, energy consumption and failures are reported and stored in a database with exact time stamp and geographical location.

About Schréder Lighting US

From refined, artistic architectural lighting to durable luminaires that withstand the harshest elements of tunnel, DOT, and transit environments, Schréder Lighting is the epitome of quality and distinction. Located in Elk Grove Village, Illinois, Schréder Lighting US is a respected member of the Schréder Group G.I.E. and operates a state-of-the-art manufacturing plant in Addison, Illinois.

Schréder Group G.I.E. was founded in Belgium in 1907, and has become an international organization with over 2,600 employees, in 44 facilities, in 30 countries and on six continents. Schréder Group G.I.E specializes in upscale, architectural and high performance outdoor lighting that is at the forefront of technological and aesthetic innovation. The members and affiliated companies of the Schréder Group share facilities and powerful, state-of-the-art tools for R&D, manufacturing, high-level photometric studies, and laboratory testing. Findings are shared within the group for the purpose of providing best options for the "The Right Light" worldwide.

The "Right Light" pertains to the enabling of design performance criteria that best incorporates economical, ecological, and energy efficient fundamentals.

For more information, contact: Schréder Lighting LLC, 985 Busse Road, Elk Grove Village, IL 60007 (outside Chicago) Tel: 847.621.5100 Fax: 847.621.5121 Website: www.Schreder.US

Follow Schréder on Twitter: http://twitter.com/Schreder_US

Become a Facebook Fan: http://www.facebook.com/SchrederLLC

More from Agricultural & Farming Products