Rotary Positioning Stages / Tables
Streamline Your Marking Application with the Kwik Dex Indexing Dial from Kwik Mark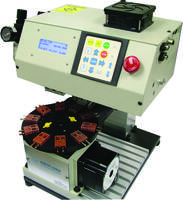 Streamline that manual marking application by adding the new Kwik Dex programmable dial to your Kwikmark machine - manufactured in the U.S.
These compact units fit directly onto the t-slot table and are self-contained requiring only one connection to the marker. The number of stops (indexes) is programmable if different types of jobs need to be run. The quick release dial mount provides fast changeovers if required.
The Kwik Dex features machine tool quality construction with heavy duty bearings and gearing, a large brushless motor and internal limit sensors. The rear mount pneumatic slide clamps the parts during the marking operation. Additional I/O is included to further automate your process. For more information, visit kwikmark.com.
All systems (and software) are designed & manufactured in our clean, state of the art facility on modern CNC equipment to the industry's most stringent quality control.
Over 25,000 sq ft is dedicated to research / development & high tech assembly. The controls and mechanics feature time proven designs with thousands of systems in the field.
KwikMark Inc.
Phone: 815-363-8268
Fax: 815-363-8089
4071 Albany Street,
McHenry, IL 60050
More from Electrical Equipment & Systems