Stream Selector System facilitates sample analysis.
Press Release Summary: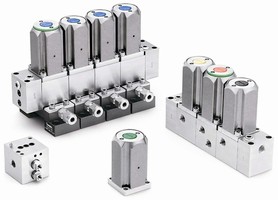 Modular Swagelok® SSV series delivers representative sample from multiple sample streams to one analyzer. This ANSI/ISA 76.00.02-compatible stream selector system controls each stream by double-block and bleed (DBB) module, which eliminates cross contamination and maintains sample integrity. DBB module also performs actuation functions. To provide consistent outlet flow, system features integrated flow loop that also streamlines sampling and purging.
---
Original Press Release:

New Swagelok® SSV Series Stream Selector System Leads to Efficient Sample Analysis



Modular design features double-block and bleed functionality in a single valve module

SOLON, Ohio (November 28, 2005) The latest addition to Swagelok Company's broad product line is the new Swagelok® SSV series stream selector system, which delivers a representative sample from multiple sample streams to a single analyzer. These modular assemblies are ANSI/ISA 76.00.02 compatible and accommodate multiple process streams in a limited amount of space. Each stream is controlled by a double-block and bleed (DBB) module to eliminate cross contamination and maintain sample integrity.

Based upon a modular technology concept, these valves house double-block, bleed, and actuation functions within a single, compact module to reduce total space needed to perform sample stream selection and overall installation time. As system requirements change, modules can be added or removed.

The SSV series stream selector system features an integrated flow loop to streamline sampling and purging and provide consistent outlet flow. Regardless of which stream is selected, the flow rates of all streams remain consistent.

Additional highlights of the SSV series stream selector system include:

· Distinctive vented air gap to help prevent mixing of pneumatic actuator supply and system fluid under pressure

· Visual and tactile actuation indicators to provide confirmation of the system's operation

· Color-coded caps available for easy identification of the process stream

· Inlet and outlet connections that are 1/8 in. female NPT or Swagelok MPC compatible (ANSI/ISA 76.00.02)

· Built-in pneumatic actuator to provide repetitive shutoff with fewer potential leak points than conventional systems.

Headquartered in Solon, Ohio, U.S.A., Swagelok Company is a major developer and manufacturer of fluid system component technologies for the research, instrumentation, pharmaceutical, oil and gas, power, petrochemical, alternative fuels, and semiconductor industries. Its manufacturing, research, technical support, and distribution facilities support a global network of more than 200 authorized sales and service centers in 54 countries. For more information about Swagelok, visit the company's Web site at www.swagelok.com.


More from Services