Stratasys Redefines Product Design and Manufacturing with World's First Color Multi-Material 3D Printer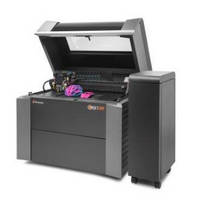 The new Objet500 Connex3 is the world's most versatile 3D printer, delivering unparalleled color product realism for better decision making, design improvement & manufacturing efficiencies



Japanese Designer Yuima Nakazato premiers 2014 Accessory Collection printed by latest 3D printing Polyjet technology in Asia Pacific



SEOUL, South Korea – Stratasys Korea Ltd. (http://www.stratasys.com), a subsidiary of Stratasys Ltd.  (NASDAQ: SSYS), a manufacturer of 3D printers and materials for personal use, prototyping, and production, today announced the launch of the ground-breaking Objet500 Connex3 Color Multi-material 3D Printer, the first and only 3D printer to combine colors with multi-material 3D printing.  Japanese designer Yuima Nakazato collaborates with Stratasys on 2014 Accessory Collection demonstrating color multi-materials capabilities, collection will be premiered on a Asia Pacific tour including Japan, South Korea, Singapore, mainland China and Hong Kong in February.  Pioneers in 3D printing, Tokyo Lithmatic and DDM.com, purchased Objet500 Connex3, achieving optimal product realism through maximum versatility.



A game-changer for product design, engineering and manufacturing processes, the Objet500 Connex3 Color Multi-material 3D Printer features a unique triple-jetting technology that combines droplets of three base materials to produce parts with virtually unlimited combinations of rigid, flexible, and transparent color materials as well as color digital materials -- all in a single print run. This ability to achieve the characteristics of an assembled part without assembly or painting is a significant time-saver. It can help product manufacturers validate designs and make good decisions earlier before committing to manufacturing, and bring products to market faster.



"Stratasys' goal is to help our customers revolutionize their design and manufacturing processes," says Jonathan Jaglom, General Manager, Asia Pacific & Japan at Stratasys AP Ltd. I believe our new Objet500 Connex3 Color Multi-material 3D Printer will transform the way our customers design, engineer and manufacture new products.  In general and with the Connex technology in particular, we will continue to push the envelope of what's possible in a 3D world."



The concept of the new 2014 Accessory Collection is based on Nakazato's belief in bridging innovation and acessibility of fashion. Nakazato, with assistance from Sun Junjie, a young designer collaborating on the project, work together to conceptualize the 3D printed accessories pieces, using 3D CAD software and the new Objet500 Connex3 Printer. Color, rubber-like and transparent materials are used simultaneously to enable the rigid, clear and flexible parts.



"With the new colors and materials combinations, there's so many different choices we could experiment with on our ideas.  The versatility allows for more imagination, going beyond traditional limits," says Nakazato.  "Objet500 Connex3 is transforming the design landscape."  The 2014 Accessory Collection will be premiered and toured at Stratasys events in Japan, South Korea, Singapore, mainland China (Beijing, Shanghai) and Hong Kong.



Engineers at beta user Trek Bicycle in Waterloo, Wisconsin are using the Objet500 Connex3 Color Multi-material 3D Printer for assessment and testing of accessories like bike chain stay guards and handlebar grips prior to actual production. "The Objet500 Connex3 Color Multi-material 3D Printer changed the way we manufacture at Trek,  augmenting our traditional, time-consuming CNC processes with fast, iterative and realistic prototyping and functional testing," says Mike Zeigle, manager of Trek's prototype development group.



"Now we produce bicycle parts that look and feel like production parts. We are particularly excited about 3D printing our models directly in color. This gives our designers the ability to graphically display color contact pressure map data on rider contact parts like seats and grips. We are also working on doing the same with FEA & CFD stress data on structural bike components," adds Zeigle.



Three Primary Color Materials Combine to Create a Spectrum of Vibrant Colors



Similar to a 2D inkjet printer, three color materials - VeroCyan, VeroMajenta and VeroYellow - are combined to produce hundreds of vivid colors. These color materials join Stratasys' extensive range of PolyJet photopolymer materials including digital materials, rigid, rubber-like, transparent, and high temperature materials to simulate standard and high temperature engineering plastics.



Another First: Flexible Materials in Color*



The Objet500 Connex3 Color Multi-material 3D Printer also features six palettes for new rubber-like Tango colors, ranging from opaque to transparent colors in various shore values to address markets such as automotive, consumer and sporting goods and fashion.*



"Since its introduction in 2007, the Objet Connex Multi-material 3D printing platform has paved the way for the development of advanced 3D printing materials with unique mechanical and thermal properties," says Stratasys Sr. VP of R&D for PolyJet Igal Zeitun. "The Objet500 Connex3 Color Multi-material 3D Printer produces models and parts using photopolymers in vivid colors so you can create colorful models from investigating concepts to pre-production pilot runs.



"As the first true multi-purpose 3D printer, we believe the Objet500 Connex3 Color Multi-material 3D Printer is in a league of its own, enabling you to dream up a product in the morning, and hold it in your hands by the afternoon, with the exact intended color, material properties and surface finish."



The Objet500 Connex3 Color Multi-material 3D Printer is commercially available today and is sold through Stratasys' extensive worldwide reseller network.



*The Flexible Materials in Color are expected to be commercially available in Q2/2014.



Additional Notes for Editors



The Technology Behind the Innovation



The Objet500 Connex3 Color Multi-material 3D Printer is based on proven Connex technology. Ideal for over-molding with Digital ABS and complex multi-material parts, the Objet500 Connex3 Color Multi-material 3D Printer is designed to enable designers, engineers and manufacturers to create models, molds and parts that match the characteristics of production parts. It 3D prints models and parts with the color, durability and surface finish of end products. This includes achieving excellent mechanical properties such as tensile strength, elongation at break, and multiple hardness shore values, which simulate high performance thermoplastics. It also allows overmolding using durable Digital ABS materials and introduces new Shore A values for Digital ABS, ranging from A27 to A95, a major advantage in manufacturing consumer products.



Featuring a large build envelope, the Objet500 Connex3 Color Multi-material 3D Printer is ideal for high capacity production. Print jobs can run with about 30kg of resin per cycle. True to the high resolutions available with PolyJet 3D printing technology, the Objet500 Connex3 Color Multi-material 3D Printer prints as fine as 16 micron layers for models with superior surface finish and ultra-fine detail.



More information about the Objet500 Connex3 Color Multi-material 3D Printer is available on the Stratasys website at: http://www.stratasys.com/Objet500Connex3.



A digital press kit for the Objet500 Connex3 Color Multi-material 3D Printer is available by visiting the Stratasys online newsroom (http://www.stratasys.com/corporate/newsroom) which contains additional resources including an image gallery, a product video, customer story video, case study, white paper, brochure, color palette, and spec sheet.



Yuima Nakazato, Fashion Designer



Born in 1985, graduated from the Antwerp Royal Academy of Fine Arts with an MA in fashion design in 2004, held his first collection in Paris and established his own fashion brand YUIMA NAKAZATO in 2009, held a run way collection in Tokyo in 2010, selected as the hottest young designer by a Japanese industry magazine, V Magazine in 2011, currently working in Tokyo.



Stratasys Ltd. (Nasdaq: SSYS), headquartered in Minneapolis, Minn. and Rehovot, Israel, manufactures 3D printers and materials for prototyping and production. The company's patented FDM® and PolyJet™ 3D Printing technologies produce prototypes and manufactured goods directly from 3D CAD files or other 3D content. Systems include 3D printers for idea development, prototyping and direct digital manufacturing. Stratasys subsidiaries include MakerBot and Solidscape, and the company operates the RedEye digital-manufacturing service. Stratasys has more than 1700 employees, holds over 500 granted or pending additive manufacturing patents globally, and has received more than 20 awards for its technology and leadership. Online at: http://www.stratasys.com or http://blog.stratasys.com.



PolyJet, Connex, and Connex3 are trademarks, and Stratasys and Objet are registered trademarks of Stratasys Ltd ans or its subsidiaries or affiliates.



Media Contact:



Stratasys Korea  Ltd.

Jihyun Lee

+82-2-2046-2287

jihyun.lee@stratasys.com



Source

Stratasys AP Ltd.





More from Electronic Components & Devices