Strain Sensors help deliver zero-defect product components.
Press Release Summary: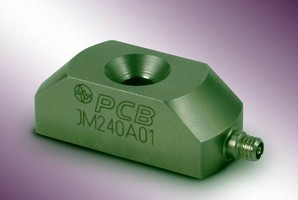 Ground Isolated Series JM240 ICP® uses piezoelectric sensing elements to indirectly measure dynamic and quasi-static stress forces on resistance welding machinery structures. Weld quality is directly affected by electrode force, and sensors are used to verify that clamping force has reached desired minimum value before applying current. Sensor data may be used to trend electrode tip wear, capture process deviations, and document process to ensure zero defect components.
---
Original Press Release:

Strain Sensors Measure Quality on Resistance Welding Machines for Delivery of Zero Defect Product Components



March 2, 2006, Depew, NY, USA - New Series JM240 ICP® Ground Isolated Strain Sensors from the Force/Torque Division of PCB Piezotronics, Inc. (PCB®) use piezoelectric sensing elements to indirectly measure dynamic and quasi-static stress forces on resistance welding machinery structures. ICP® Strain Sensors feature sensitivity stability, repeatability, high resolution, and extremely long life. Mounted on a C-frame or actuator with a single screw keeps the sensor out of the current flow and high electrical noise environments do not affect the ground-isolated design.

Weld quality is directly affected by electrode force, and -- in typical applications -- the sensor is used to verify that the clamping force has reached a desired minimum value before applying weld current. The strain signal may also trigger weld current, which cuts cycle time by applying weld current immediately upon reaching the desired force, and avoids electrode damage due to premature current application. Sensor data may be used to trend electrode tip wear, capture process deviations, and document the process to ensure delivery of zero defect product components.

Other applications include stamping, pressing, punching, crimping, forming, plastic injection molding, and automated assembly operations. Series JM240 ICP® Strain Sensors are easy to install, and can be powered by any ICP® sensor signal conditioner.

For additional information, contact the Force/Torque Division of PCB Piezotronics, Inc. toll-free at 888-684-0004 (in the U.S. and Canada) or 716-684-0001; e-mail: force@pcb.com; fax 716-684-8877; or visit PCB's web site at www.pcb.com.

PCB and ICP are registered trademarks of PCB Group Inc.

Andrea Mohn
Marketing Coordinator
PCB Piezotronics, Inc.
3425 Walden Avenue
Depew, NY 14043-2495 USA
(800) 828-8840 ext. 2216
Fax: (716) 684-0987
E-Mail: mktg@pcb.com

TECHNICAL ENQUIRIES:
Bob Metz
Technical Sales Specialist
Force/Torque Division
3425 Walden Avenue
Depew, NY 14043-2495 USA
(888) 684-0004 ext. 2683
Fax: (716) 684-8877
E-Mail: bmetz@pcb.com

More from Computer Hardware & Peripherals