Strain Gauge Signal Amplifier features CE approval.
Press Release Summary: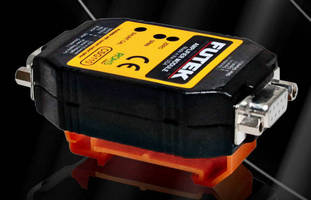 Compliant for all medical, industrial, and consumer applications, CSG110 is available in 1 or 10 kHz bandwidth versions and supports modification to support 25 kHz option. RoHS-compliant product, designed for minimal noise output, features short-circuit and over-voltage protection, comes in ABS-94HB black enclosure, and features DB9 connectors. Enclosed with DIN rail mount, product is constructed with DIP switches instead of soldered internal components.
---
Original Press Release:

Taking You from MilliVolt to Volt



Today, FUTEK announces the release of their upgraded CSG110, the Strain Gauge Signal Amplifier. Recognized for their extensive sensor product line, FUTEK has been spearheading the test and measurement industry with innovative electronic solutions.

Ten years ago, FUTEK recognized the need for an external amplifier compatible with its sensors. After time spent in research and development, they released the first edition CSG110. But, like most industrial products, technology evolves over time and new and improved internal components became available. So, FUTEK decided a revision was needed. And they chose to make the best of it.

"Ninety-five-percent of the CSG110 parts have been revised," said Babak Fard Moghaddam, lead Electrical Engineer on this project. "We have reduced its noise output, improved the bandwidth, as well as implement the newest technologies."

As Moghaddam mentioned, FUTEK has made major improvements to their CSG110 in 2011. First, the CSG110 is now CE approved to the highest criteria, making it compliant for all medical, industrial and consumer applications. Second, the outputted noise has been reduced significantly by ninety-percent - ten times less than that of the previous CSG110. Third, FUTEK has installed a safeguard into the device protecting it from short-circuiting. Fourth, Moghaddam chose to install DIP switches instead of soldering the internal components. This change now makes the CSG110 RoHS compliant, seeing as it is now free of lead based materials. Lastly, this 1KHz or 10KHz amplifier has the option of being modified to support 25KHz.

"The CSG110 is equipped with the newest technologies of op-amps. This has accounted for a lot of the devices improvements," said Moghaddam.

These five key improvements have coined FUTEK's CSG110 as an all-purpose strain gauge amplifier:
1. CE approval
2. Reduced noise
3. Over-voltage protection
4. RoHS compliance
5. 25KHz modification

For more information about FUTEK's CSG110, please visit www.futek.com/product.aspx?t=instrument&m=CSG110, or email FUTEK at futek@futek.com.

More from Printing & Duplicating Equipment