Stormwater Chamber meets standards for deep burial.
Press Release Summary: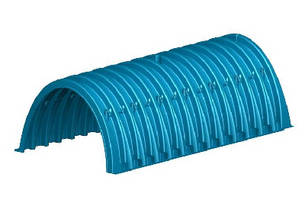 Suited for deep cover underground commercial and municipal storm water management systems, StormTech® DC-780 Chamber is designed in accordance with AASHTO LRFD Bridge Design Specifications for live and dead loads. It also meets design requirements of ASTM F 2787 and product requirements of ASTM F 2418. Made using injection molding process to ensure uniform wall thickness, DC-780 provides more than 46 ft³ of bare chamber storage capacity and can be used in systems requiring up to 12 ft of cover.
---
Original Press Release:

New Stormtech Chamber Introduced by ADS



StormTech DC-780 Chamber Meets Standards for Deep Burial

HILLIARD, Ohio - A new StormTech® chamber from Advanced Drainage Systems, Inc. (ADS) is now available for use in deep cover underground commercial and municipal storm water management systems. The StormTech DC-780 is designed in accordance with the AASHTO LRFD Bridge Design Specifications for live and dead loads. It also meets the design requirements of ASTM F 2787 and the product requirements of ASTM F 2418 . ADS, the world's largest producer of corrugated high-density polyethylene (HDPE) pipe, completed its acquisition of StormTech LLC in March 2010.

As with other StormTech chambers, the DC-780 is made using an injection molding process to ensure uniform wall thickness throughout the chamber. Similar to the company's SC-740 chamber, the DC-780 with more than 46 cu ft of bare chamber storage capacity can be used in systems requiring up to 12 feet of cover.

"The new DC-780 chamber meets the most stringent industry performance standards for superior structural integrity while providing designers with a cost-effective method to save valuable land and protect water resources," stated Ron Vitarelli, Vice President of Storm and Sanitary Sewer Market Development for ADS. "There is also a lot of versatility in using the chamber. The shape and size of a StormTech chamber permits it to fit nearly any configuration regardless of available space, be efficiently delivered to the job site, and easily installed with a minimal crew. It is ideal for virtually any commercial, residential, agricultural or highway drainage system especially one that is under a parking lot or road."

The ADS - StormTech Technical Services Department can provide assistance with the proper StormTech chamber selection including the layout of chambers to meet storm water volume requirements, and evaluating the cost savings of using StormTech chambers instead of a pond, concrete or steel detention/retention system.
For additional information call ADS - StormTech at (888) 892-2694, go to www.ads-pipe.com or contact any local ADS office.

The StormTech DC-780 for deep cover underground storm water management systems available from ADS.

About ADS:

Advanced Drainage Systems, Inc. (ADS) is the world's largest producer of corrugated HDPE pipe. Founded in 1966, it serves the storm and waste water industry through a global network of 48 domestic and international manufacturing plants and more than 22 distribution centers. In addition to its flagship N-12 pipe, the company offers a complete line of fittings and other accessories including StormTech storm water chambers, Nyloplast® drainage structures, BaySaver Technologies® storm water treatment units, FLEXSTORM(TM) Inlet Filters and various geotextiles.

For more information, please contact:

Ms. Tori L. Durliat

Director of Marketing

ADVANCED DRAINAGE SYSTEMS, INC.

401 Olive Street, Findlay, Ohio 45840

Phone: 419-424-8275 Fax: 419-424-8302

E-mail: tori.durliat@ads-pipe.com

More from Communication Systems & Equipment