Storage Tanks, Pressure Vessels, Reactors, and Custom Fabrication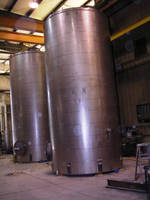 Savannah, GA - Ross Engineering Inc., a subsidiary of Charles Ross & Son Company, manufactures storage tanks, pressure vessels, reactors and custom fabrication as large as 100,000 gallons at its Savannah facility.

Six 10,000-gallon storage vessels were recently shipped to a major chemical company making assorted household products. Product temperature is controlled via a heat tracing system. The stainless steel 316 vessels are insulated with calcium silicate sheathing. Vents, overflow pipes, fill nozzles, lifting, anchor and grounding lugs, manways, caged ladders and landing platforms are also provided. The tanks are designed according to UL142 / Wind & Seismic per ASCE 7-80 California Code.

Ross also routinely supplies the following features on fabricated vessels:

o Vacuum and/or internal pressure design

o Agitation system

o Heating/cooling jacket

o ASME code stamp can be provided, as needed.

o Sanitary design

o Special polishes and coatings

To request a quotation or to find out more about our fabrication capabilities, contact Seavy O'Neal at 912-238-3300 / 1-800-524-7677 or soneal@mixers.com. Ross Engineering, Inc. is located at 32 Westgate Boulevard, Savannah, GA 31405.


More from Agricultural & Farming Products