Storage Containment Deck holds up to 8 drums.
Press Release Summary: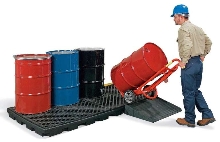 Constructed of chemical- and UV-resistant polyethylene, single-piece PIG® 8-Drum Poly Deck can hold 8 fully-loaded drums weighing up to 12,000 lb. Its 75 gal sump capacity deck features removable grates to facilitate sump cleaning and comply with 40 CFR 264.175 for containment of haz-waste. To facilitate loading and unloading drums, unit has 5 in. profile and is available with optional polyethylene ramp.
---
Original Press Release:
New Pig Introduces Pig® 8-Drum Poly Deck

July 15, 2005, Tipton, PA New Pig Corporation has introduced the PIG® 8-Drum Poly Deck, a one piece, high capacity storage containment deck that allows storage of up to eight drums in compliance without the added expense or labor of connecting multiple decks.

Sturdy and durable, the PIG® 8-Drum Poly Deck can hold 8 fully-loaded drums up to 12,000 lbs. Constructed of chemical and UV-resistant polyethylene, the 75-gallon sump capacity Deck features removable grates for easy sump cleaning, and helps to comply with 40 CFR 264.175 for containment of haz-waste.

The PIG® 8-Drum Poly Deck's low 5 " profile makes loading and unloading drums convenient and easy. An optional polyethylene ramp is available for even easier loading.

In 1985, New Pig invented the first contained absorbent, the Original PIG® Absorbent Sock, changing leak and spill management forever. Built around its award-winning Pigalog® catalog, innovative product line, and legendary service, the company has thrived. Now a multi-channel, multi-brand supplier of innovative liquid management solutions to industrial, institutional, and government facilities in over 40 countries, PIG® products, services, and technical expertise help keep workplaces clean and safe.

The company's Pigalog® catalog features a wide variety of exclusive and innovative PIG® Brand products, including the largest selection of absorbent socks, mats, pillows, pans, and booms in the world. In addition, the expanding product line includes material handling equipment, personal protection apparel, spill response supplies, disposable and pre-moistened wipers, and other workplace safety products.

PIG® products and other quality brands are also available through its web site at www.newpig.com. Other channels offering PIG® products include all Safety-Kleen branches, select Integrated Suppliers, and B-to-B E-Commerce exchanges.

For more information or a FREE Pigalog® catalog, contact New Pig at One Pork Avenue, Tipton, PA 16684 or call 1-800-HOT HOGS® (468-4647). The company's e-mail address is [email protected] and website is www.newpig.com.

NOTE: PIG®, 1-800-HOT-HOGS® and Pigalog® are registered trademarks of New Pig Corporation.