Storage Bags use vacuum technology for compression.
Press Release Summary: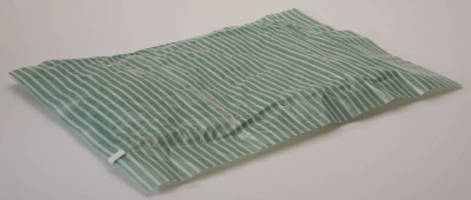 Pack-Mate Flat Storage and Volume Storage bags incorporate cap-less Q2 valve technology(TM) to accelerate compression and facilitate use. Valve automatically opens and closes as vacuum cleaner nozzle is applied and switched on/off to aid in extracting air from bags, which are airtight, waterproof, and reusable. Pack-Mate Travel Storage bags feature a check valve and do not require vacuum cleaner to remove air; outdoor version of this roll bag features nylon mesh.
---
Original Press Release:

Scott Brothers Introduces Re-Designed Pack-Mate Vacuum Storage Bags



(1st May, 2009) Scott Brothers Ltd, specialist in storage products for the home, announces the launch of its latest and further improved range of Pack-Mate vacuum storage bags. Pack-Mate bags now feature eye-catching new designs, re-designed cap-less valves for ease and speed of use and improved user instructions. The new design has been applied to three ranges: Flat Storage (formerly VacuSac), Volume Storage (formerly Stack&Vac) and Travel Storage (formerly Home&Travel Roll Bag). The three core families are also being re-launched in high-impact, high-quality, full colour gravure printed film packs, reducing space whilst increasing the impact of hanging retail displays.

The Pack-Mate range has been rebranded using design to simply distinguish the types of bags and to suit the different applications. An attractive new design is printed on the front of the bags, while the valve and instructions are on the back, which otherwise remains clear so contents can be easily viewed and identified. Redesigned using elegant tones of green, the bags are now fashionable, stylish and striking.

Separate designs distinguish the travel bags from the larger vacuum-compressible items in the Pack-Mate range. The travel bag features a simple, smart, gender-neutral striped design, particularly suited to look good in all luggage. The larger vacuum-compressible bags feature a leaf print which blends tastefully with designs currently fashionable in household furnishing, including carpets, cushions and upholstery. This decorative design enables the bags to be stored where they can be seen.

All Pack-Mate vacuum storage bags now come with Q2 valve technologyTM to further improve compression - making for faster compression and greater ease in use. The new innovative valve, which, uniquely, automatically opens and closes as the vacuum cleaner nozzle is applied, and switched on and off, makes extracting air from the bags much simpler.

The new valve eliminates the risk of the cap not being properly screwed on and as there is no twisting or levering, minimises the risk of broken nails and it is easier to use for those with limited dexterity As well as being airtight, the bags are waterproof and re-useable, ensuring that all contents are instantly protected. These revolutionary space saving bags compress contents dramatically, and the valve is designed to fit the nozzles of all common domestic vacuum cleaners.

Pack-Mate has also improved its roll bag range by creating an even easier-to-roll bag. The new travel storage bags now feature an improved unique check valve, making rolling even simpler. Roll bags do not require a vacuum cleaner to remove the air, ideal for conserving space in suitcases. Pack-Mate Outdoor roll bags, which feature a specialist nylon mesh for outdoor applications, are still available in their existing carton or in film packs.

The Pack-Mate range reinforces simplicity through technology. For a vacuum storage bag that is simple to use, with simple instructions it has to be simply Pack-Mate. Existing Pack-Mate suppliers will all be provided with new and improved bags over the next few months.

Pack-Mate products are exclusively distributed in the UK by Scott Brothers Ltd. For further information on Pack-Mate, please visit www.packmate.co.uk, call +44 (0)1477 539 500 or e-mail sales@scottmail.co.uk

If you would like to receive Scott Brothers' quarterly newsletter, please email sbl@scottpr.com

More from Fluid & Gas Flow Equipment