StoneFit® Wall System offers 50-year warranty.
Press Release Summary: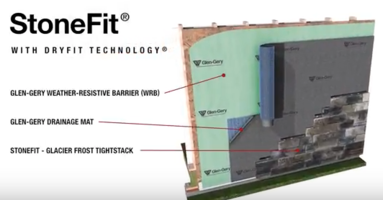 Available in maple ridge and glacier frost colors, StoneFit® Wall System comes with tongue and groove system which interlocks panels together and eliminates wall vibration. Unit's panels are secured with attachment brackets which create water management system and result in wind load resistance. Ensuring durability and color longevity, product features starter angle, weather-resistive barrier and drainage mat.
---
Original Press Release:
Glen-Gery Announces the Launch of Innovative Stone Product Line and Complete Wall System
Glen-Gery, a recognized leader in hard surface solutions, unveiled a new product line, StoneFit with DryFit Technology® today. StoneFit with DryFit Technology is an innovative stone cladding solution with patented tongue and groove panels that interlock the stone pieces together without the use of mortar.
The panels are mechanically secured with attachment brackets that can be drilled directly into structural sheathing, regardless of stud location. The attachment brackets assist in creating a water management system and result in a high wind load resistance. The unique tongue and groove system is dual-purpose, it interlocks panels together and eliminates wall vibration.
The panels are part of a larger wall system also announced today – the StoneFit Wall System®. It is the first complete stone drainage wall system that includes a custom engineered starter angle and Glen-Gery branded Weather-Resistive Barrier and Drainage Mat.
"StoneFit can be installed year-round, in half the time of conventional adhered veneer products, which reduces installation cost and opens up new channels for our distribution network," said Chuck Baer, Stone Product Manager, Glen-Gery. "We are really excited about the opportunity this product presents."
The stone product is currently available in two colors under the Tightstack profile: Maple Ridge, an earth tone brown to tan range, and Glacier Frost, a subtle blue to grey tone. Color coordinating starter angles and matching accessories are also available in two colors that complement the stone.
The product is backed by Glen-Gery's 50-year product warranty, which ensures product durability and color longevity.
For more information, visit www.glengery.com/stone-products/stonefit.
About Glen-Gery
With over 125 years of industry expertise, Glen-Gery is a share-leading manufacturer of brick and stone products and distributor of in-house manufactured and sourced exterior/interior building products to the residential and commercial channels in the U.S. and Canadian markets. With 10 manufacturing plants and 10 company owned distribution locations supporting builders, remodelers, contractors, architects, designers and end-users, Glen-Gery is a key operating company within Ibstock PLC, UK.
Contact:
Tim Leese
Glen-Gery Corporation
1166 Spring Street
PO Box 7001 Wyomissing, PA 19610
Phone: (610) 374-4011
More from Software